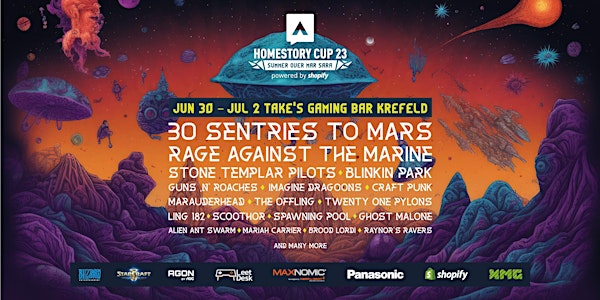 HomeStory Cup 23 - Summer over Mar Sara
HomeStory Cup 23 is going to rock the house! Forget all the well known music festivals, HSC23 will be the only festival you need this summer
Datum und Uhrzeit
Beginn am Fr., 30. Juni 2023 12:00 (CEST)
Veranstaltungsort
TaKe's Gaming Bar Alte Linner Straße 93 - 97 47799 Krefeld Germany
Rückerstattungsrichtlinie
Kontaktieren Sie den Veranstalter, um eine Rückerstattung anzufordern.
Zu diesem Event
2 Tage 11 Stunden

Mobile E-Tickets
HomeStory Cup 23 is going to rock the house!
Forget all the well known music festivals, HSC23 will be the only festival you need this summer.
Although we have retained the comfort of our very own TaKe's Bar to host a StarCraft 2 tournament with the world's best players, this time we are guaranteeing the highest level of partying. We want to combine the thrill of a competitive environment with a fun and friendly festival atmosphere. With some great players joining us at our location as well as players participating online, we will have some sick StarCraft II action. In addition to watching exciting matches, you will experience many hype moments and become part of the HomeStory Cup legacy for the 23rd time!
As always, we will have a huge prize pool. Join us from 30 June to 2 July 2023 for an amazing gaming event you will never forget.
Viewers at home and visitors from all over the world: Get ready! Don't miss out on this once-in-a-lifetime StarCraft II tournament.
Keep an eye on our social media channels to make sure you don't miss any of the upcoming player and tournament announcements.
https://twitter.com/TaKeTV
https://www.facebook.com/TaKeTV/
https://www.instagram.com/TaKe_TV/
Get your ticket right now and look forward to another StarCraft community get-together!
Admission: 16+
Any questions? Message us: info@TaKeTV.net
Über den Veranstalter
Esport is coming home! 


TaKeTV events combine the thrill of competitive gaming with the relaxed atmosphere of a community get-together! Meet your favorite gaming personalities up close and enjoy the wide variety of our studio location TaKe's Gaming Bar!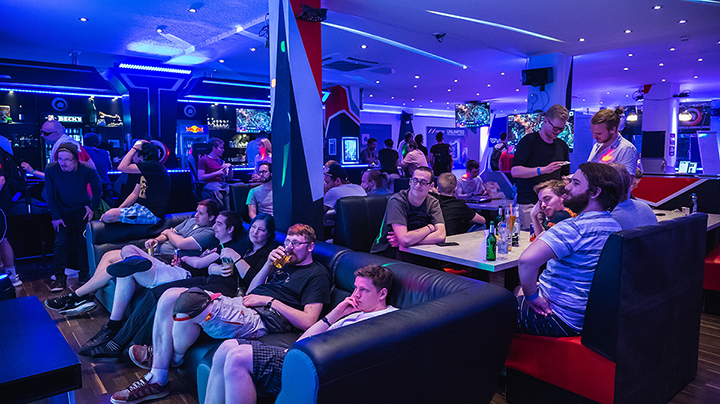 Our 2000m² location combines everything a true gamer dreamed of:
Multiple gaming stations (including PS4, XBOXONE, Nintendo Switch, N64 and other retro specials)
In-house Arcade with a Dance Dance Revolution Machine, pinball and other classics!
In-house cinema that lets you catch all the action live!
Glazed 6v6 PC area which ignites your motivation for a competitive atmosphere!
Exclusive VIP area
Multiple unique in-house studio locations
Individual Bar location with a variety of drinks and snacks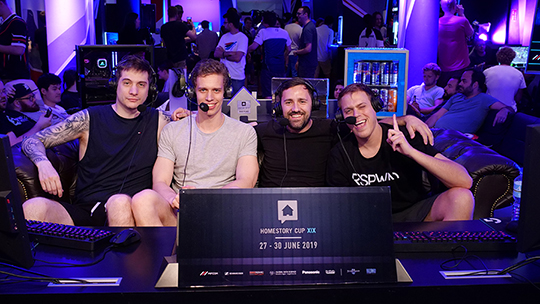 We gladly welcome visitors and gaming enthusiasts during our events and the opening hours which you can find on our social media profiles!