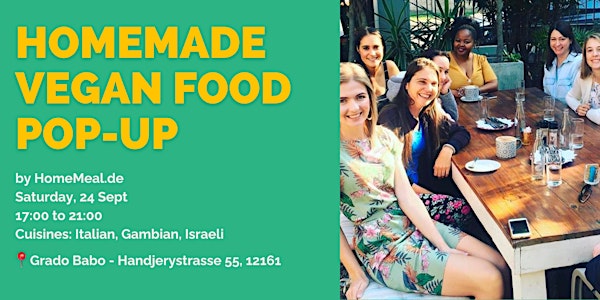 Homemade Vegan Food Popup - International Cuisine
Don't miss Berlin's best Vegan popup! You will get homemade Gnocci, Vegan cookies, African curry and much more.
When and where
Location
Grado Babo Handjerystraße 55 12161 Berlin Germany
About this event
Vegan Food Popup is a FREE event that showcases the best vegan food in Berlin, featuring a rotating lineup of diverse vendors from Italy, Africa and Israel.
The Vegan Food Popup is located in the newly opened Wine Bar at Schöneberg. It is a beautiful scenic area with old cobbles stone street and an outdoor seating. It's the perfect place to gather with your favourite people to enjoy amazing food, authentic Italian wine. Who knows, may be your next best friend is coming there to find you!
👶 Kid-Friendly • 🐕 Dog-Friendly • 🅿️ Free Parking
The food popup is organised by HomeMeal.de. HomeMeal is a marketplace app for authentic homemade food from around the word. Download our app and get discount on the food at the popup.
😍 Cuisines and chefs:
- Italian by Chef Consuelo
- African by Chef Ebrima
- Vegan Microrgeens by Jay Barros
- Vegan Cookies by Chef Rinath
- Wine by the House.
_____________________________________________
💡 How does it work?
1. Register yourself and get a free ticket so we can plan ahead and secure enough portion for you.
2. Download our app from get.homemeal.de and get a discount fro pre-booking.
3. Come to the place, meet new people, make friends and enjoy the food with amazing wine from the house.
💶 Payment : You need to purchase the food via our app HomeMeal. No cash transaction is allowed. Only apple pay or debit/credit card are accepted. Giro card with IBAN details is not accepted.
_____________________________________________
🚌 How to arrive to the venue?
- The nearest S bahn station is 'S Feuerbachstrasse' or U bahn station 'U Walther-Schreiber-Platz'. You can take a healthy walk of 9 minutes from there.
_____________________________________________
💁 Enjoy delicious food on a beautiful Saturday night out.
_____________________________________________
About us: HomeMeal is a marketplace application where you can buy and sell food from home in Berlin. We have authentic home cooked food from 20+ countries on our app. Download the app now and get 100+ dishes delivered to your place. Save time and money while eating healthy and authentic.
Visit us: www.homemeal.de
Contact us : info@homemealdeal.com