You are looking to get a better role in a great data team?
About this event
To start with a great team, you need to achieve two things.
Get invited by companies to an interview regularly.
Get through the interview process and secure an offer. Better two offers so that you have some bargaining power.
This workshop offers you a roadmap to an AI Guild validated CV
A detailed discussion of the critical elements in a CV that get you interviews.
Q&A on the technical skills level needed, data experience required, and other questions you have.
Tips and tricks on reducing your search time by half, and your potential costs by 90% or more.
Learning by example
Learn from AI Guild validated CVs + get the chance to talk to Ana Mikler, who started a new role.
Target participants
Talents looking for a new or next role. You will likely have experience with data, enjoy analytical thinking, and know Python or R.
If you are looking for a career change, then your background may be in, for example, related data professions, software engineering, or a data-intensive Ph.D.
Proof-of-concept
High-potential talents converted to data careers by AI Guild members as, e.g., company trainers, online mentors, bootcamp instructors, hiring managers.
200+ AI Guild leaders in the field, e.g., Bootcamp directors, university professors, technical leads, business architects, startup founders, industry CxO.
The AI Guild community with 1000+ members.
Your host
Chris Armbruster is an alumnus of the Max Planck Society, a former director of a Data Science Bootcamp, and head of #datacareer at the AI Guild.
Apply to join the AI Guild.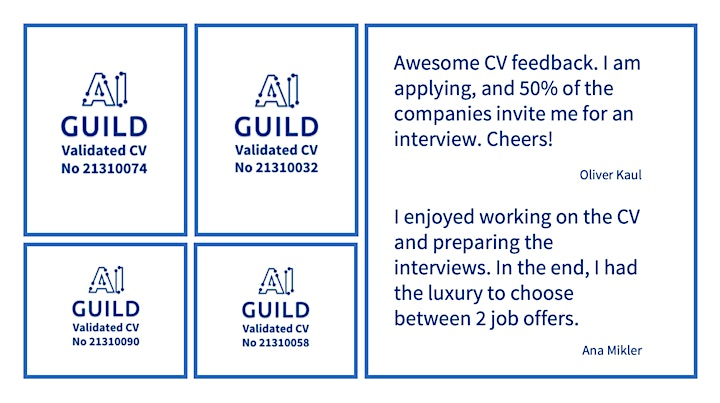 Organizer of Hired. Validated #datacareer CV examples.