We celebrate 14 mindblowing pitches after 48 hours pure hacking!
About this event
The Hinterland Hack is a hackathon specifically desinged to tackle existing and upcoming industry problems by taking up and matching opportunities of the digitalization. Participating corporates share their real challenges to the hack teams, which create innovative solutions with the potential of a highflying startup.
This years corporates and challengers:
Dr. Oetker | Miele | Melitta | KI Marketplace
Poppe + Potthoff | Dr. Kurt Wolff | Phoenix Contact
At the Hinterland Hack Solution Day all the exciting results of the teams are presented!
Have a look on our website for getting a closer look on the challenges by watching the challenge videos.
The participants as well as selected corporates and mentors take part in the event on site.
To join the Solution Day as well, you can get your virtual event ticket via Eventbrite.
When? 19th September 14.00
How? Virtually via livestream. All information about your access will be sent to you the week before the event.
Agenda:
14:00 Start Solution Day
14:15 Pitches
16:30 Award ceremony
End of Hinterland Hack 2021
You have further questions?
Visit our Website or get in touch with Jasmin (jasmin@hinterland-of-things.de)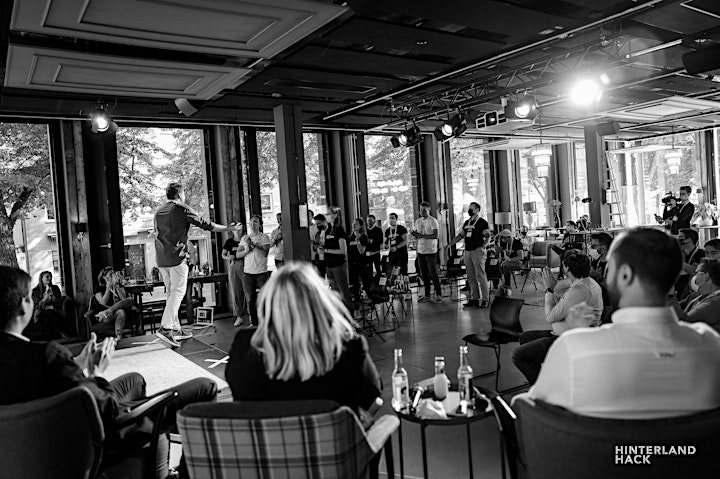 Organiser of Hinterland Hack 2021 | Solution Day
Die Founders Foundation bildet die nächste Generation erfolgreicher GründerInnen aus und baut im Herzen des deutschen Mittelstands ein nachhaltiges B2B Startup Ökosystem. Als Vorreiter in der GründerInnen Ausbildung setzt die Founders Foundation auf das holistische und methodisch fundierte Founders Foundation Education Model, das den gesamten Startup-Lifecycle systematisch in verschiedenen Programmen abbildet, um UnternehmerInnen von morgen gezielt vorzubereiten. Als Nährboden für erfolgreiches Unternehmertum und Pilotprojekt für Deutschland etabliert die Founders Foundation in der Flächenregion Ostwestfalen-Lippe ein B2B Startup Ökosystem, das Gründungen befördert, die erfolgreiche Zusammenführung von "new and old business" ermöglicht und so die digitale Zukunft vorantreibt. Die Stärken der Region mit etablierten Weltmarktführern und internationalen Familienunternehmen nutzend wurde in diesem Kontext die Hinterland of Things als eine der führenden Tech-Konferenzen in Deutschland ins Leben gerufen. Als gemeinnützige Organisation stellt die Founders Foundation eine nachhaltige und erfolgreiche Ausbildung der GründerInnen ins Zentrum ihres Wirkens gemäß dem Motto: no equity - people first.