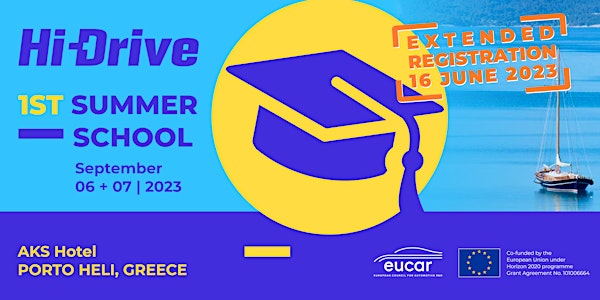 Hi-Drive 1st Summer School
The EU flagship project Hi-Drive invites you to be a part of its 1st Summer School in the beautiful resort of Porto Heli in Greece.
Date and time
September 6 · 9am - September 7 · 5pm EEST
Location
Aks Porto Heli Porto Heli - Poros 213 00 Porto Cheli Greece
About this event
Following a series of summer school events organised within the framework of PReVENT, HAVEit, interactIVe, AdaptIVe, and L3Pilot Integrated Projects, the flagship EU Project for automated driving, Hi-Drive, is organising its first International Summer School on 'Driving towards the deployment of Higher Automation', which will take place on 06 - 07 September 2023, at the beautiful summer resort of Porto Heli in Greece (AKS Porto Heli Hotel), just a few hours away from Athens.
During this two-day event, prominent speakers from both academia and industry, as well as key experts from European projects and international initiatives will be invited to give cutting-edge lectures in the field of Automated Driving (AD), sharing recent advances in AD systems development and testing and casting light on main challenges and lessons learned.
With a focus on the theory and practice of Automated Driving Implementation and Testing, Hi-Drive invites researchers, Ph.D. students, developers, technicians, and other professionals to explore the potentials of AD, expand their expertise and networks, and present their research work to a number of academics and highly qualified professionals. The focus of Hi-Drive's 1st summer schoolwill be on the latest findings and main challenges in the areas of AD testing and validation covering the following thematics: Learning-based AD perception and decision making, AD system-theoretic safety analysis, Mixing real-world testing with simulation testing, Collaborative driving testing, Human-CAV interaction testing.
Day 1 : Algorithms behind Autonomous Vehicles perception and decision making and system behaviour safety analysis
Day 2: Trials and methods for CAD systems verification
YOUR REASONS TO ATTEND
Participants will familiarise themselves with new research directions in CAD testing related areas through a series of lectures held by international experts and will be given a chance to present their own work during a poster exhibition.
Network with other people working in the field, meet distinguished scholars, and establish contacts for potential future research collaborations;
Get inspired by some of the best of the best in AD RnD;
Meet and interact with experts and peers in the AD field;
Sneak a peek at the workings of the EU flagship project Hi-Drive;
Gain exposure to state-of-the-art techniques and methods and get familiar with international standards relevant to AD testing;
Attain deeper knowledge from new companies that came to assist the AD/automotive industry in the difficult task of meaningful testing and testing scaling-up;
Present your research work and receive feedback from academics and highly qualified professionals in the field;
Get fully prepared for the Hi-Drive 2nd Summer School in 2024!
Hi-DRIVE 1st SUMMER SCHOOL THEMATICS
AD perception and decision making development and testing
Learning-based algorithms vs. statistical methods and available/generated datasets
Runtime monitors/explainability for AI-enabled modules
Safety argumentation building up (SoTIF)
Trials and methods for CAD systems verification
Tools, methods, metrics for combining real-world testing with virtual testing (methodologies and tools)
Re-usable tests and scenarios
Connectivity technologies and CAD Testbeds
Aspects of Human-AD system interaction
Characteristics of ToRs in DiL experiments
User aspects in AV-non AV interactions in real traffic
Communicating the unseen: new HMIs based on CAD system info (eHMIs, augmented perception OBU)
ℹ️ Find more details about the Project here: www.hi-drive.eu
#HiDrive_Summerschool
PRACTICAL INFORMATION
The HI-DRIVE 1st Summer School will be held on 06-07/09/2023 at AKS PORTO HELI Hotel, Porto Heli, GR 21061, Argolida, Peloponnese. The AKS Porto Heli Hotel is a conference venue and accommodation with direct access to the waterfront and is about 2 hours from Athens.
The project is offering discount room rates to all Hi-Drive 1st Summer School registrants. Below you can find the room rates:
Single or Double room - EUR 118,- /night;
Book your accommodation through this link: Aks Porto Heli in Porto Heli, Peloponnese, Greece | Book online