Sales Have Ended
Registrations are closed
Congrats - you're now registered for the HHL Spirit Festival! The Zoom link will be shared with you in a confirmation email. We can't wait to see you there!
HHL Spirit Festival (formerly known as HHL Homecoming) is back for 2021 - this time virtually! Come as you are, connect and grow!
About this event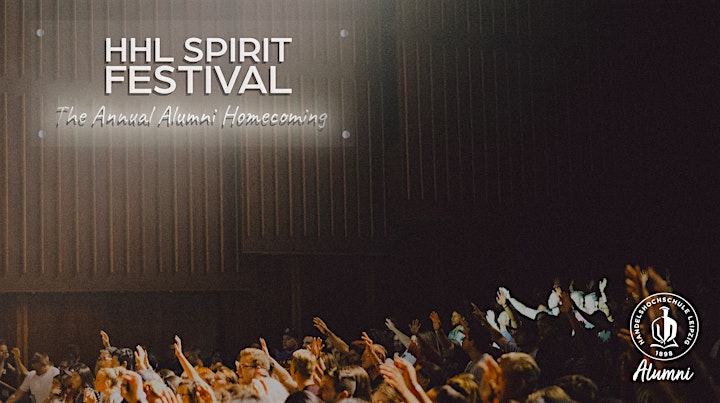 About HHLAA:
The purpose of the HHLAA is to promote the welfare of HHL and to establish a mutually beneficial relationship between HHL and its alumni. The HHLAA helps alumni connect with their alma mater and with fellow graduates through online services such as a global directory, events and activities as well as continuing education programs. One of the main events organized by HHLAA is the yearly Homecoming (now HHL Spirit Festival), where all HHL alumni are invited to Leipzig (this year virtually) to meet up with fellow students, professors and faculty staff again. Moreover, regional events are conducted throughout the year all over Europe. In addition, the HHL Alumni Association sponsors selected student initiatives and administers student awards.
Location and Times:
Location: we'll be using the same Zoom link for all parts. For chapter events there will be separate zoom sessions, as they will happen simultaneously.
Timezone: All times are CET (German timezone)
Chapter Meet-ups: In addition to the fully-virtual main program (HHL Spirit Fesitval), many individual chapters will be organising meet-ups in pubs, restaurants or Zoom. Check to see what your nearest chapter is doing and join in!
_____________________________________________________________________________________________________
Agenda
Friday, 12th Nov 2021
18:00 – 18:15 CET
Welcome and Virtual Kick-Off
18:15 – 19:00 CET
Online World Pub
Discuss with internationally acclaimed artists about similarities and differences between culture and business. The discussion will be livened up by videos from Leipzig's cultural scene.
Moderation: Tobias Wolff (M10), Vice President HHL Alumni Association
Special Guests: Leading figures from Europe's cultural scene:
19:00 – open end CET
Chapters Unite!
Saturday, 13th Nov 2021
10:00 – 11:00 CET
Online World Pub: "Breakfast Club" Networking Session
Moderation: Pam Taylor (M14), board member of HHL Alumni Association
We'll meet in Zoom and then progress to a networking session in wonder.me (login link to follow)
11:00 – 12:00 CET
Part 1: #LeadershipPioneers - "How to Measure New Work?"
Speaker: Prof. Dr. Tobias Dauth, Professor of International Management at HHL and academic Director of HHL Executive Education. One focus of his academic work is on top management team research and projects in the context of New Work.
Moderation: Hanns-Christian Ehret (K22), President HHL Alumni Association
12:00 – 12:30 CET
Lunch Break
12:30 – 13:00 CET
"How to Become Your Life's CEO"
Keynote Speaker: Dr. Carmen Schwalbe (P12), author, speaker, podcaster and self-marketing strategist.
13:00 – 14:00 CET
Part 2: #LeadershipPioneers - "Purpose meets Public Value: Lessons from the Leipzig Leadership Model"
Speaker: Prof. Dr. Timo Meynhardt, Dr. Arend Oetker Chair of Business Psychology and co-author of the Leipzig Leadership Model which aims to provide a purpose-oriented framework for leadership.
Moderation: Hanns-Christian Ehret (K22), President HHL Alumni Association
14:00 – 14:30 CET
Panel discussion: "Empowering Others"
Patrick Carré (K6), Vice President Global Commercial Road Transport at Shell
Thies Dibbern(MSc.6), Head Of Customer Service at VHV Versicherungen
Valerie Elsner (MSc.10), Commercial Director Personal HealthCare Europe at Procter & Gamble
14:30 – 15:00 CET
"Bringing it Home"
Format: Parallel panel discussions in breakout rooms
Breakout Room 1: "Entrepreneurial Parenting - How to Tailor Your Personal Family-Work-Balance"
Special guest: Katharina Marisa Katz, Freelance Content Conception & Copywriter | Book Coach & Mentor for Authors | Autor of "Einfach Machen Einfach Gründen" & "Zwischen Laptop und Legosteinen"
Dr. Conrad v. Stechow (K22), Vice President HHL Alumni Association
Breakout Room 2: Women@HHL - "Women Empowerment: Fast track to leadership – The influential role of mentorship"
Moderation: Rieke Fehrenkötter, Doctoral Candidate & Research Associate - Sparkassen-Finanzgruppe Chair of Mergers & Acquisitions
Panelists:
15:00 – 15:30 CET
"Leaders of Today Meet Leaders of Tomorrow" (Alumni & Current Students)
Format: Panel discussion, integrate questions from current student into the panel along the theme "what would I recommend to my ounger self"
Moderation: Moritz Hagemann (MSc21) and Ole Peters (MSc21), current HHL students
Panelists:
Julia Benary (MSc.12), Head of Sales Region at Allianz
Shilpa Kataria (M10), Head of Planning and Controlling APAC at Allianz Partners
Sina Warnecke (PMSc 7), Executive Assistant Management Board at Mister Spex)
15:30 – open end CET
Closing Event: "Leaders of Today Meet Composers of the Past"
Format: A virtual musical tour through the city of Leipzig! Get back in touch with old friends like Bach, Mendelssohn and Wagner!
Moderation: Tobias Wolff (M10), Vice President HHL Alumni Association
Special Guests: Leading figures from Leipzig's cultural scene: