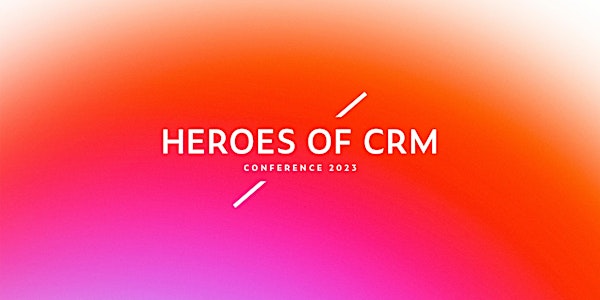 Heroes of CRM Conference 2023
"Heroes of CRM" is the leading German conference in the field of Customer Relationship Marketing. We return 2023 with more content!
Zeit und Ort
Veranstaltungsort
Ankündigung folgt
Rückerstattungsrichtlinie
Kontaktieren Sie den Veranstalter, um eine Rückerstattung anzufordern.
Zu diesem Event
Heroes of CRM is back in 2023! 🚀
More content, a bigger audience, and a wide range of entertainment. This is not your regular conference. This is a celebration of the CRM-Community! Join us, get your super early bird ticket now!
First-order platforms are pocketing the largest share of customer access. To retain direct customer relationships and to regain their margins, modern-day brands need to utilize their CRM insights. So that your company may better arm itself and stay competitive in today's platform economy. We will inform you about new trends and approaches in CRM and marketing, from strategy to organization to technology.
Top-notch speakers from various industries will provide you with best practices and case studies and will inspire you to create more effective campaigns. Join our community and take a journey through data-informed, cross-channel creativity.
See more on www.heroesofcrm.com