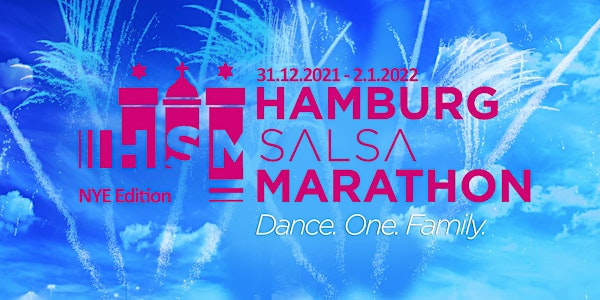 Hamburg Salsa Marathon 2021 - NYE Edition
Hamburg Salsa Marathon. 30.12.2021 - 2.1.2022 Dance. One. Family.
Date and time
December 30, 2021 · 5pm - January 2, 2022 · 11pm CET
Location
Tango Studio el abrazo Tamara Juhan Tango in Hamburg Beerenweg 1D 22761 Hamburg Germany
About this event
PLEASE NOTE THAT IT IS POSSIBLE THAT THIS EVENT WILL GIVE ACCESS EXCLUSIVELY TO THOSE WHICH ARE VACCINATED OR RECOVERED FOLLOWING THE CURRENT AND FUTURE COVID-19 REGULATIONS IN HAMBURG.
If you are in love with Salsa and Social Dancing, then there is no better event concept for you than the Marathon concept. Focused purely on social dancing, starting already in the middle of the day with non-stop dancing until late night this concept caters for the real Salsa addicts. With a strictly limited number of attendees making sure that the gender ratio is balanced and the dancing level is high, this concept creates a family-like atmosphere. And coming together for brunch and dinner surely promotes a feeling of being together with friends.
Our mission is to be your perfect hosts making sure you feel like home while following your unstoppable passion for dancing. We choose intentionally the last days before NYE, as we know that many of us are looking for an opportunity to spend those last days with friends to conclude a year of adventures and challenges while dancing as much as you can. And we invite you to stay another night and to give those days the perfect ending by dancing into the New Year with your friends.
The Hamburg Salsa Marathon in 2018 and 2019 were each of them a huge success and both editions got an amazing feedback from the attendees. Due to the pandemic situation with COVID-19 we were evaluating for quite a while, if it will be possible to make it happen this year. Now we made the decision. We are happy to announce that in 2021 Hamburg Salsa Marathon will be back for its 3rd edition!
Once again our home for 4 nights will be the Tango Studio El Abrazo in Hamburg Altona. With the amazing floor, perfect size, good air condition, great sound system and well located, we couldn't think of a better place to meet our family. Once again the number of dancers will be limited to 200 people and we will choose the perfect blend of dancers from all over Europe. We will bring you 6 of the best DJ's in our community to offer you the best and most danceable music, coming from as far as Hong Kong to cater for your needs.
So - what are you waiting for?!
Cancellation policy:
Please read carefully our terms & conditions: https://hamburgsalsamarathon.com/agb
All tickets are personal and not refundable. In case the event can't be happening because of the pandemic situation with COVID-19, we will offer you two options regarding your tickets:
Option 1: refund of 80% of your payment in 14 days after event has been cancelled. For the remaining 20% you will receive a voucher which you can use for HSM 2021 or BSC 2021. The voucher is not personal and can be sold or given away.
Option 2: move your ticket to HSM 2021. Additionally you will receive a voucher with a value of 20€ which you can use for BSC 2021 or give to a friend. The voucher is not personal and can be sold or given away.