Location
Z-Bau - Haus für Gegenwartskultur & Online (Discord)
Frankenstraße 200
90461 Nürnberg
Germany
Refund policy
Refunds up to 30 days before event
We're inviting hackers, engineers and business brains to join us on a 2-day tech adventure – live & online. Let's build the future together!
About this event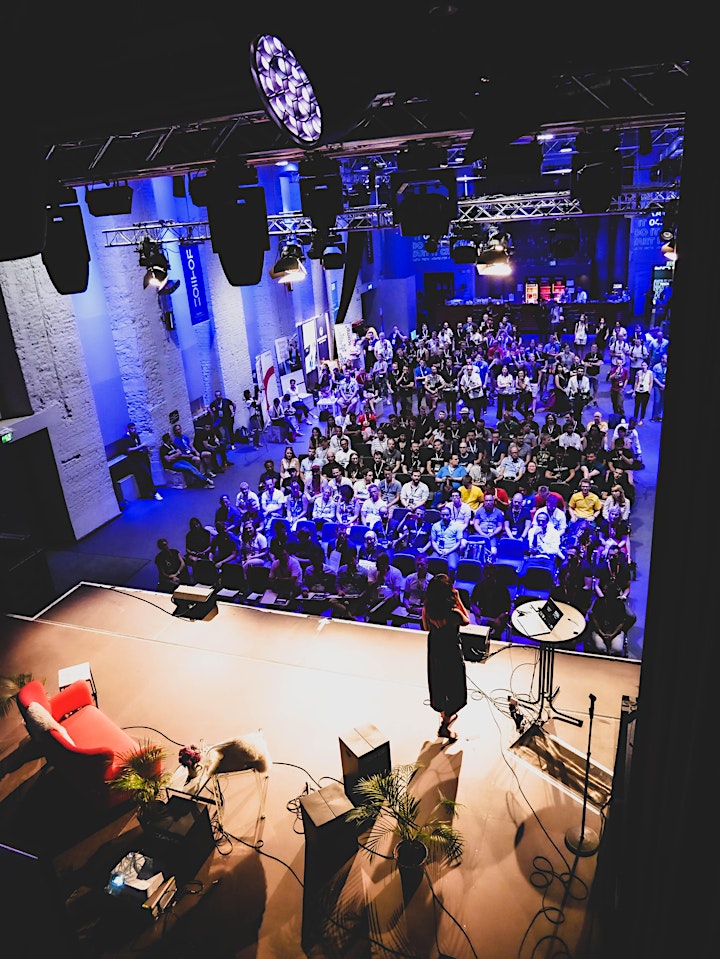 HACK|BAY 2022
Let's come together again!
This May we invite all hackers, engineers and business brains to come together and hack it away with us for the sixth time!
After two years of an online-only HACK|BAY, we can't wait to see all of your lovely faces again at Z-Bau in Nuremberg!
However, those who can't make it there in person can participate online and work on the challenges remotely.
We are so looking forward to come together as a community and to celebrate your creative ideas and solutions.
When:  May 30 - 31
*Please note that the event language will be English. 
How to participate on-site?
Get an on-site ticket and work on-site on a challenge.
Just drop by and bring your laptop and any other tools you may need (e.g. charger, mouse, USB drive, adapter).
Besides that, you are provided with everything you need (think drinks, food, mentoring, and, of course, a great community) to get the full HACK|BAY experience.
You can even spend the night on-site so that nothing stands in the way of developing your solution!
(Some beds are available on-site. So all you have to do is pack your pajamas, toothrush & co. Please let us know in advance via events@zollhof.de, if you would like to stay overnight and we will reserve a sleeping spot for you).
There will be no hygiene regulations regarding Covid-19. But we recommend testing yourself before the event and of course you're free to wear a facemask.
How does it work online?
If you can't make it to Nuremberg, it is possible to participate online (Discord & Livestream of the Welcoming).
ZOLLHOF and mentors are also available in case you participate online, but you master the organization yourself (team, ideation, work mode) and work largely independently on a challenge.
Only for the Grand Finale on May 31 the two worlds - on-site and online - come together.
Participation Information
Please make sure you choose the right ticket: with an on-site ticket, you can participate in the event on-site in Nuremberg at Z-Bau.
With an online ticket, participation is only possible online via Discord & Co.
Depending on your choosen ticket, you will receive all information about participation in advance by e-mail.
Please ensure to adjust your settings in your Eventbrite account so that you can receive e-mails from us.
Challenges  & Mentoring
There are some exciting challenges waiting for you! Work in a team on one of the callenges, compete with others and earn amazing prizes for your outstanding results.
Experts are at your side and accompany you through the event with mentoring whenever it's needed so you never walk alone, even if it's your first hackathon experience.
1. SIEMENS 
Level up your idea in a robotics ecosystem!
Now it's your time to shine – and build. Collaborate on a robotics platform supplied by Siemens, consider possible applications within business areas like e.g. sensors, localization, autonomous navigation, logistics or healthcare, and explore the possibilities of an open playground where you can jump directly to coding your own ideas or even provide a base for others!
Your challenge is setting up a mobile robot (https://www.eduart-robotik.com/) by connecting partial solutions comparable to apps on your smartphone. Imagine if GPS navigation was implemented, you could directly build on that and make your dream of, let's say, autonomous pizza delivery a reality!
This kind of modular software engineering is being used more and more in industry - to have a blueprint ready whenever you want to realize an idea with mobile robotics.
Implement your use case with code blocks as partial solutions using the open-source framework ROS2. If you kept an eye on the compatibility of the whole system that would be the icing on the cake. Every additional functionality of a robot should work independently and is not supposed to conflict with its previous ones.
Wouldn't it be nice if you could just focus on your awesome AI-based detection algorithm of bad memes in the wild? Without having to control parameters of your mobile robotics platform at the same time, because an industrial ecosystem with handy solutions already existed?
Time to hear about your ingenious brainchild!
2. GfK 
Who am I? - Become a real online profiler!
Can you predict socio-demographic profiles using best-in-class data science, natural language processing and web scraping? Your solution could make cookies redundant - while respecting privacy regulations - and thus, become the crystal ball for online user behaviour.
In addition, you'll help users not to be spammed with irrelevant product and service suggestions by training machine learning models which create AI algorithms today that will guide decisions of tomorrow. Decisions that lead to users who are informed about the right products at the right times.
GfK provides you with panel data containing socio-demographic information and online consumption behaviour as well as test data with URLs to be predicted on. By extracting information from all kinds of sources (think videos, text, audio, images, colors,…) from the web pages behind the URLs in the supplied data, you may find relations between that information and the audiences observed in the panel.
Find the right cues, unmask your suspects and shape the future of data analytics!
3. adidas
Web3 – Let's create tomorrow's internet!
Decentralized networks will be the driving force of the next era of the digital economy. New tools, infrastructure services, or applications in the blockchain-based culture are driving innovative web3 use cases and will create tremendous value by enabling users to use their data to improve web experiences.
Imagine a brand like adidas coming to life in the metaverse. How could spaces be designed to fully include and engage the community? How could you drive topics such as female empowerment? How could you help the metaverse turn into a better and more equal place than actual real life?
And why not bridging the gap between NFTs and real life? Think of the combination of web3 technologies, such as smart contracts, with existing web2 solutions, and bring them to new heights. For example, networking activities can be performed on digital platforms with NFTs that document and represent our virtual life. So NFTs have the potential to not only prove what you own, but also show where you have been and what you have done. Just as it happens on currently existing web2 platforms such as Instagram, Twitter & Co.
Designing and engineering tomorrow's internet means to connect and shape the complex world of web3 and its many promises. Let's use community power, unleash creative potential and build a fairer and more equitable environment for everyone.
Prizes 
At HACK|BAY, we reward your awesome solutions and hard work! Our expert jury will evaluate your ideas.
These prizes are up for grabs:
Overall Best 1.500€
Best Technical Implementation 1.000€
Best Use Case 1.000€
Program
HACK|BAY 2022 takes place on-site at Z-Bau in Nuremberg.
However, if you can't make it to Nuremberg, you are welcome to participate online.
Monday, May 30
08:00 - 09:00 (on-site only)| Arrival & Registration *
09:00 - 10:30 (on-site & online) | Welcome including Presentation of Topics & Challenges
10:30 - 12:30 (on-site & online) | Team Up & Ideation
on-site: guided team building; mentors are on-site to answer questions and support team building
online: hackers form teams themselves; challenge material will be provided
12:00 - 14:00 (on-site only) | Lunch Time
14:00 - 18:00 (on-site & online)| Hacking Time
18:00 - 20:00 (on-site only) | Dinner
Tuesday, May 31
00:00 - 08:00 (on-site & online) | Hacking all night long
08:00 - 10:00 (on-site only) |Breakfast
10:00 - 11:00 (on-site & online)| Hacking Time
11:00 - 12:00 (on-site & online) | Pitch Feedback (optional)
12:00 - 14:00 (on-site only) | Lunch Time
13:00 - 14:00 (on-site & online) | Pitch Feedback (optional)
14:00 - 16:00 (on-site & online)| Hacking Time
16:00 - 17:00 (on-site & online)| Semi Finals
17:00 - 17:30 (on-site & online)| Evaluation Semi Finals
17:30 (on-site & online) | Announcement of Finalists
17:30 - 18:00 (on-site & online) | Get ready for the Finals!
18:00 - 19:30 (on-site & online)| Grand Finale including & Team Pitches
19:30 - 20:00 (on-site & online) | Jury Session / Keynote
20:00 - 20:15 (on-site & online) | Announcement of Winning Teams
20:15 -23:00 (on-site only) | Dinner & Aftershow Party
*Check-In is possible at these times:
May 30, 08:00 - 18:30 h
May 31, 10:00 - 18:00 h
For more information please check out our website:
We are looking forward to HACK|BAY 2022 with you!