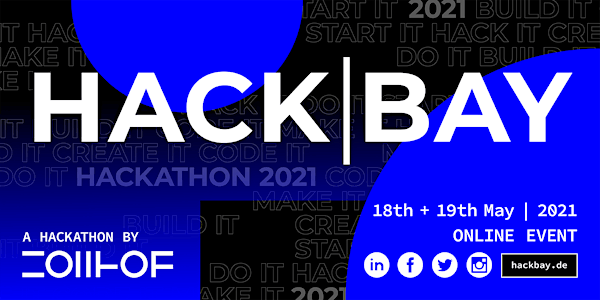 Hackathon HACK|BAY 2021
We are inviting hackers, engineers and business enthusiasts to join us on a 2-day tech adventure. Let's build the future together!
Refund Policy
Refunds up to 30 days before event
About this event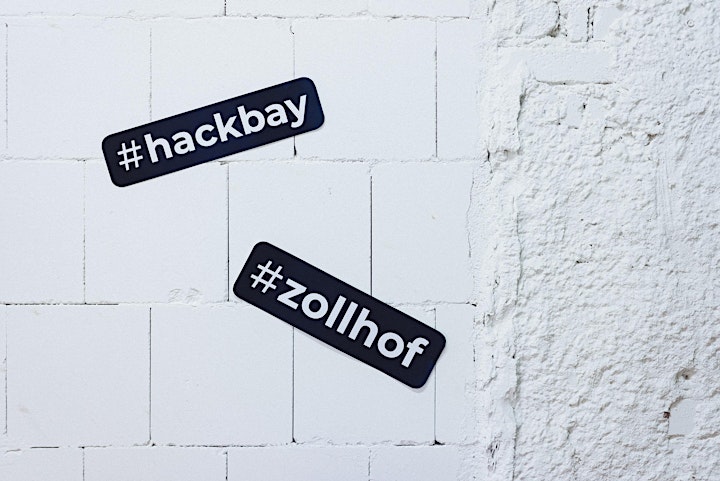 HACK|BAY 2021
- your online experience!
Once again ZOLLHOF invites all hackers, engineers and business enthusiasts to join us for a 2-day hackathon to celebrate creative ideas and innovative solutions.
Like last year, this year's tech adventure will take place online again - the hackers work on the challenges completely remotely.
As you already might know from past HACK|BAYs, you will benefit from great mentoring, an awesome hacker community and amazing prizes!
When:  18th & 19th May 2021
*Please note that the event language will be English. 
How does it work online?
Even though we cannot all meet in person, we will provide all necessary online tools in order to make the HACK|BAY 2021 an unique and unforgettable experience! All hackers will soon receive further information on how to participate in the event.
Challenges 
Ready to shape the future with us? Take up your chance and work on one of four different challenges. The winner takes it all! Compete against others and earn amazing prizes for outstanding results!
1. #TechForGood | SIEMENS 
Expanding human vision with AI solutions!
Year 2021. We are facing more and more life and environment threatening situations (eg.: pandemics, environmental disasters, gas leaks, forest fires, traffic accidents..) – while today's systems are still lacking efficient prevention and protection!
Human vision cannot be in place 24/7 to catch these events. Recognising them locally, fast or even proactively using our visual senses is crucial for preventing and reducing damage right at the beginning.
Today's world offers many possibilities of cameras capturing live videos or pictures everywhere around the globe. Local processing power and AI are evolving as the technology advances. Reacting immediately brings big potential to save lives and protect our environment.
Take up this challenge to create a safer world! Think of possible use cases to prototype while utilizing these features. Good hacking!
2. #OfficeOfTheFuture | ZOLLHOF
Join our mission to hack the ZOLLHOF Office!
Challenging times of social distancing dramatically reshaped our understanding of the value and functionality modern offices ought to provide. Our brand-new homebase ZOLLHOF 7 offers us now the unique opportunity to design the office of the future with a tech-savvy crowd from scratch - be part of it!
Invent a state of the art safespace on 3500m² including team & startup co-working areas, an open cafeteria and a high tech event space! To successfully hack this challenge, you will be granted access to relevant maps, office management systems and all tech devices under our roof. Countless smart solutions are waiting for you to be explored - think big: limits are only set by your imagination!
Inspiration needed? You will get the opportunity to come and visit our home.
Take up the unique opportunity to create THE tech office of the future! Keep on hacking!
3. #VoiceAssistant |VITAS
Give a voice to the AI language assistant of the future!
We all need corporate assistance now and then. It can be about asking for advice, troubleshooting or other kind of assistance. But what are the characteristics and features of the perfect channel? Which touchpoints are desired, which are useful and beneficial from a customer-centric view - and which are not?
Take up this challenge and figure out how Conversional Assistants based on Artificial Intelligence (Deep Learning) can be taken to the next level - with focus on benefits for customers (callers)!
You will get access to evaluated prototyping-tools as well as experiences, data and experts of a startup in the field of customer support with more than 60k successful calls.
4. #SmartDocumentation| bill.less
Join the game of paper records: spice up online receipts!
If you think about doing your tax refund or saving receipts for guarantee reasons, you might not be overwhelmed by a wave of motivation. Transferring physical paperwork into the digital sphere adds security to the process, however, it's certainly not the embodiment of fun! Hence, we aim at making scanning receipts sexy!
Ready to join us on the mission of motivating users to digitize receipts by integrating gamification to the process?
A must-have are functions to scan and store receipts as well as to share them with others and get statistics - everything else is up to you!
Prizes 
At HACKBAY, we would like to reward your awesome ideas and hard work! Our expert jury will judge all ideas and give awards to the best three teams.
These prizes are already waiting for you to be gained! Get ready, choose a challenge and win some cash with your team!
Overall Best 1.500€
Best Technical Implementation 1.000€
Best Use Case 1.000€
Program
Have a first impression of what is waiting for you!
Tuesday, May 18th 2021
09:00 - 10:00 | Welcome & Keynote "Automatic Summarization with Deep Learning" by Ana Oliveira
10:00 - 10:30 | Challenge Pitches
10:30 - 12:00 | Ideation & Team Up
12:00 | Start hacking!
13:30 - 14:145| Workshop "Hardware for HACK|BAY explained" (Speakers from Arrow, ON Semiconductor and Vicotee give an Overview how to use the boards that are provided by Arrow)
18:00 - 20:00 | Meetups (Python Usergroup & GDG Nuremberg) & "Ask me anything" sessions with VITAS & bill.less
Wednesday, May 19th 2021
12:00 - 14:30 | Pitch Feedback (optional)
15:00 - 16:30 | Semi Finals
16:30 - 17:30 | Evaluation Semi Finals
18:00 | Announcement of Finalists
18:30 - 20:00 | Grand Finale incl. Keynote "Mixed Reality for Cultural Heritage" by Zaid Zaim & Team Pitches
20:00 - 20:30 | Jury Session / Keynote "Web-Crawling: Get free data from the web" by Yevgen Papernyk
20:30- 21:00 | Announcement of Winning Teams
Interesting speakers & meetups:
Learn about the latest trends in tech!
Top speakers will attend the event and talk about future trends and what's currently hot in the industry. 
Furthermore, we invited meetup groups which discuss latest technology. Feel free to join one of the groups!
For more information please check out our website:
So what are you waiting for? We are looking forward to meeting you digitally at HACK|BAY 2021!