Description
The biggest Munich event about Chatbots & Voice Assistants is coming.
---
This is going to be a massive event for everyone interested in chatbots, voice assistants, and the cognitive technologies they are powered by. Two tracks, Business and Tech, 12 speakers, and 300 of you - technology enthusiasts.
You definitely don't want to miss this!
You can discover everything you ever wanted to know about the bot space - speakers from platform providers such as Microsoft, chatbot agencies, and startups working on their business ideas around chatbots are coming to deliver their deep and extensive knowledge to you.
This event is organized in conjunction with Nano Hack @ Burda Bootcamp on June 24th that is devoted to Chatbots & Voice Assistants. You will build real-world solution, and the event serves as a crash-course for hackathon participants. Of course, it is not limited to only hackathon participants - everyone is welcome. Just bring your interest in chatbots, cognitive solutions, and voice-controlled digital assistants.
AGENDA:
2 separate tracks: Business (in the Burda Bootcamp rooms) & Tech (in the Burda Bar room). Address for attendees is still the same: Arabellastraße 23.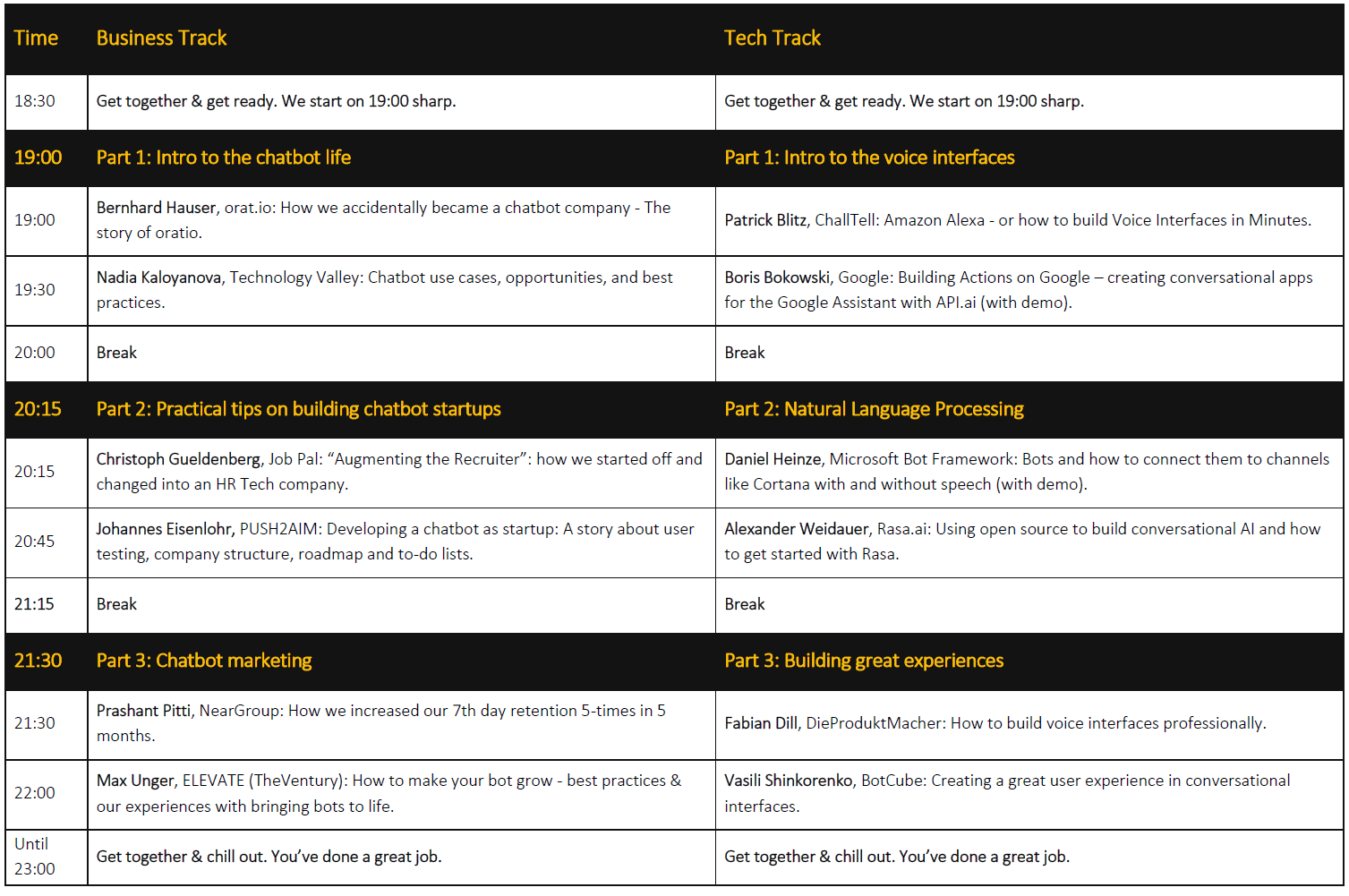 SPEAKERS:
Patrick Blitz, ChallTell, Voice UI startup.
He will talk about: Amazon Alexa - or how to build Voice Interfaces in Minutes. We will take a quick look at what Alexa actually is - and then dive right in and build an Alexa Skill onstage.

Bio: Patrick is co-founder and CTO of ChallTell Solutions, a startup at the forefront of Voice UI & Digitalization in Munich. With over 10 years of engineering, strong skills in product management and design, he is always looking for new challenges. Right now, that is building context relevant voice user interfaces.
Boris Bokowski, Google.

He will talk about: This presentation provides a hands-on introduction to Actions on Google, a way for developers to add conversational apps to the Google Assistant. We will be using API.ai to build a fun example assistant.
Bio: Boris manages a team of 20+ engineers working on Google's intranet search. His team is currently exploring chat bot use cases for Googlers. Boris joined Google in 2011, after several years of working as an open source developer on the Eclipse UI Platform at Object Technology International in Ottawa, Canada, later acquired by IBM. Boris studied computer science in Darmstadt and holds a PhD from Freie Universität Berlin.
Fabian Dill, CEO at DieProduktMacher, makers of digital products.
He will talk about: How to build voice interfaces professionally. Conversational interfaces and especially voice interfaces are the most personal channels for a digital product. For which kind of products are they applicable and what are necessary prerequisites? Once you identified what you want to build the question arises how to build it? What are recommended voice interactions and best practices? What design elements are available? Do we already see common interaction patterns emerge? Finally the interface has to be build in a professional way. In addition to the actual coding we will look at local development, deployments and stages, multi-language support and testing.

Bio: Fabian is Co-founder and CEO of DieProduktMacher GmbH in Munich, Germany. Before founding DieProduktMacher, Fabian served as Head of Business Performance at a subsidiary of Hubert Burda Media. He also co-founded a machine learning startup (KNIME) in 2006. Fabian has many years of experience building online products, seeing them fail and succeed. This experience has equipped him with a deep expertise in developing innovative products for multiple touchpoints that users love.
Johannes Eisenlohr, Founder at PUSH2AIM, fitness motivation chatbot.
He will talk about: Developing a chatbot as startup: A story about user testing, company structure, roadmap and to-do lists. Being no moguls but right in the middle, I share our fails, struggles and accomplishments.

Bio: "I don't have a bio, only my pitch", so here it goes! HeyBuddy is built by PUSH2AIM, the fitness startup Johannes founds with friends. HeyBuddy is your companion making fitness a game, while having knowledge, motivation and workouts in one place.
Christoph Gueldenberg, co-founder at Job Pal, chatbot for recruiting.

He will talk about: "Augmenting the Recruiter". It will be about how we started off (Job Board) and changed into an HR Tech company and what we do today.
Bio: Christoph is a co-founder of Job Pal, a Berlin-based tech venture building chatbots for the recruiting industry. Job Pal helps companies to improve their candidate experience and automate their hiring. Before Job Pal, Christoph worked at various companies incl. Dubsmash and Apple.
Bernhard Hauser, orat.io, a central messaging platform that connects businesses with customers across various messengers.
He will talk about: "How we accidentially became a chatbot company - The story of oratio" and how the mobile messaging space became today's most interesting market for connecting businesses and customers.

Bio: CEO & Co-Founder of oratio and co-organizer of ChatbotConf 2017, Europe's first international chatbot & messaging conference.

Daniel Heinze, Microsoft Bot Framework.
He will talk about: The Microsoft Bot Framework enables everyone to build intelligent bots for various channels: Facebook, Skype, Slack and Cortana. Daniel showcases current scenarios by building a bot that can be used for text and speech interaction.
Bio: Daniel is a passionate Software Developer for 10 years. His most proficient area is Data Science and because of that he handles the topics Machine Learning, Cognitive Services and Bots at Microsoft.

Nadia Kaloyanova, Technology Valley, startup agency.

She will talk about: Answers to ultimate questions: What are the interesting use cases that we have had for chatbots? What is possible with chatbots? What we recommend to do and not to do in chatbots development?
Bio: Nadia has more than 6 years of international experience in IT Project and Program Management. Now she works on Technology Valley - an agency specialized in Chatbots development and Natural Language Processing. Their chatbots are mainly focused towards e-commerce businesses and their needs. Previous experience include companies such as Hewlett-Packard GDC, The Coca-Cola Hellenic – Shared Services, Computer Sciences Corporation, Vayant, etc.

Prashant Pitti, NearGroup, a chatbot to chat anonymously with people.
He will talk about: How we increased our 7th day retention 5-times in 5 months

Bio: Prashant Pitti is an serial entrepreneur. He along with his brothers have bootstrapped a travel-portal, EaseMyTrip.com, doing annual turnover of USD 200 MN. Currently Prashant is onto distrupting how friends and relationships are made online via chatbot.
Vasili Shinkorenko, BotCube, chatbot development company.
He will talk about: Vasili Shinkorenko, who is a founder of BotCube, a chatbot development company from London, will explore the process of creating a great user experience in conversational interfaces. He will explain why the chatbot interface is just a little part of a bot design process and will unveil what covers under the hood of a great UX, going through all the bottlenecks of design process for bots.

Bio: Vasili is a founder of BotCube — chatbot development company from London, UK. BotCube provides custom Chatbot Development Services based on unique design & content, and tailored exactly to clients business needs. Vasili has an engineering & business background with 5 years of experience in product development and outsourcing. Founder of BotCube Community that unites more than 2000 entrepreneurs, investors and bot developers from companies like Google, Facebook, and Swelly. Speaker at LOGIN 2016 & Chat Bot Conf, included in the Top 100 Bot People list by orat.io.
Maximilian Unger, MA, Partner & Director ELEVATE (TheVentury).

He will talk about: How to make your bot grow - best practices & our experiences with bringing bots to life.

Bio: Max collected more than 5 years experience in the field of digitisation working as a consultant with major brands all over Europe before becoming Partner & Director of ELEVATE at TheVentury. ELEVATE is Europe's first bot accelerator focused on bringing early stage startups to a product market fit within 6 months. TheVentury empowers startups and established companies by injecting crucial growth factors, such as Marketing & IT Development, to foster sustainable growth.
Alexander Weidauer, Rasa.ai, an open source conversational AI platform.

He will talk about: Alex will explore why pro developers like advanced bot companies and large corporates rely on open source to build their conversational AI and show how easy it is to get started with Rasa.
Bio: Alex is co-founder and CEO of Rasa, a Berlin-based AI startup. The company was part of last year's Techstars programme and also organises the Bots Berlin meetup. Alex studied Computer Science and Management at TU Berlin and the London School of Economics. Before founding Rasa, he worked for Project A Ventures and McKinsey.


PARTNERS:
Location partner: Burda Bootcamp.


Catering sponsor: Microsoft.

Software sponsor: JetBrains.
Cocktail sponsor: CeBIT.