World leading scientists discussing the challenges of AI regulation
About this event
The International AI Conference will take place on 8-9 April 2021 and will be online. It will feature interdisciplinary lectures and workshops presented by both GOAL project researchers and external speakers on the regulation of AI referring to the topic of Governance of/by algorithms from the fields of (socio-)informatics, law, ethics, economics and technology assessment.
For more information on the event's program, please click here.
A short summary of the speakers' presentations can be found here.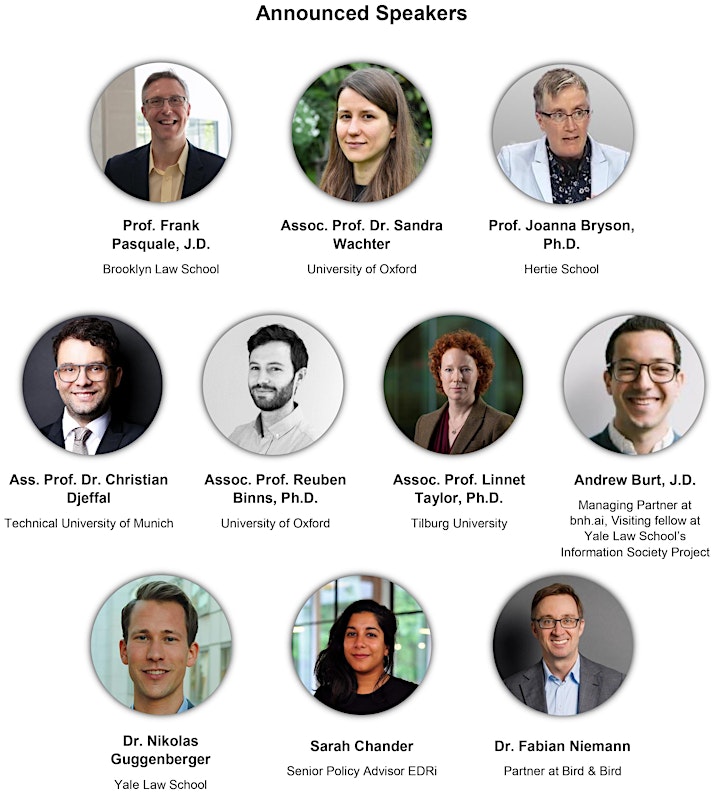 Announced Speakers
Prof. Frank Pasquale, J.D.
Frank Pasquale is a Professor of law at Brooklyn Law School and a highly regarded scholar and expert on the law of algorithms, artificial intelligence, and machine learning. He is the author of The Black Box Society (Harvard University Press, 2015), which has been translated into many different languages and has been internationally acknowledged as a groundbreaking study on how "Big Data" affects our lives.
In addition to his lecture, Frank Pasquale will participate in a Q&A session that is moderated by Prof. Dr. Ingrid Schneider (University of Hamburg).
Assoc. Prof. Dr. Sandra Wachter
Sandra Wachter is an Associate Professor and Senior Research Fellow in data ethics, artificial intelligence, robotics and Internet regulation at the Oxford Internet Institute, University of Oxford. She is also a Fellow at The Alan Turing Institute. Her current research focuses on the legal and ethical implications of AI, Big Data, and robotics as well as profiling, inferential analytics, explainable AI, algorithmic bias, diversity, and fairness, governmental surveillance, predictive policing, and human rights online.
Among others, Sandra Wachter and Frank Pasquale will also participate in a panel discussion that is moderated by Dr. Nikolas Guggenberger (Yale University).
Prof. Joanna Bryson, Ph.D.
Joanna Bryson is a Professor of Ethics and Technology at the Hertie School in Berlin. Her research focuses on the impact of technology on human cooperation, and AI/ICT governance. From 2002-2019 she was at the Computer Science faculty at the University of Bath. She has also been affiliated with the Department of Psychology at Harvard University, the Department of Anthropology at the University of Oxford, the School of Social Sciences at the University of Mannheim, and the Princeton Center for Information Technology Policy. Since July 2020, Prof. Bryson has been one of nine experts nominated by Germany to the Global Partnership for Artificial Intelligence.
Ass. Prof. Dr. Christian Djeffal
Christian Djeffal is an Assistant Professor for Law, Science and Technology at the Technical University of Munich. At the Munich Center for Technology in Society and at the TUM School of Governance, he researches and lectures on the relationship between law and technology, focusing on new technologies such as artificial intelligence and the internet of things.
Assoc. Prof. Reuben Binns, Ph.D.
Reuben Binns is an Associate Professor of Human Centred Computing at the University of Oxford, working between computer science, law, and philosophy, focusing on data protection, machine learning, and the regulation of and by technology. Between 2018-2020, he was a Postdoctoral Research Fellow in AI at the Information Commissioner's Office, addressing AI / ML and data protection.
Assoc. Prof. Linnet Taylor, Ph.D.
Linnet Taylor is an Associate Professor at the Tilburg Institute for Law, Technology, and Society (TILT), where she leads the ERC-funded Global Data Justice project, seeking to understand the differerent perspectives worldwide on what constitutes just treatment through data technologies. Her research focuses on the use of new sources of digital data in governance and research around issues of human and economic development. She was previously a Marie Curie research fellow in the University of Amsterdam's International Development faculty, and a postdoctoral researcher at the Oxford Internet Institute.
Andrew Burt, J. D.
Andrew Burt is Managing Partner at bnh.ai, a boutique law firm focused on AI and analytics, Chief Legal Officer at Immuta and Visiting fellow at Yale Law School's Information Society Project. Previously, Burt served as Special Advisor for Policy to the head of the Federal Bureau of Investigation's Cyber Division, where he served as lead author on the FBI's after action report for the 2014 attack on Sony, among other assignments. He holds a JD from Yale Law School and a BA with first-class honors from McGill University. He is a term-member of the Council on Foreign Relations, a member of the Washington, D.C. and Virginia State Bars, and a certified cyber incident response handler.
Dr. Nikolas Guggenberger
Nikolas Guggenberger is a Clinical Lecturer in Law, a Research Scholar in Law, and the Executive Director of the Information Society Project at Yale Law School. His research focuses on the intersection of law and technology, specifically platform regulation, privacy, the automation of law, and the future of private law.
From 2016 to 2019, Guggenberger held an appointment as RWTÜV Foundation Assistant Professor at the University of Münster School of Law where he taught contract, consumer protection, copyright, and information law. From 2014 to 2016, he served as a policy advisor to Jakob von Weizsäcker at the European Parliament in Brussels, working in the field of banking and financial markets regulation as well as monetary and economic policy.
Sarah Chander
Sarah Chander is a Senior Policy Advisor at European Digital Rights, where her areas of focus are advocacy and policy advice to the EU on matters related to AI, privacy, surveillance with specific focus on upholding the digital rights of marginalised communities. Previously, she worked as an Advocacy Officer at the European Network Against Racism, a network of civil society organisations across Europe working together to combat racism, and for the UK Commission for Employment and Skills, focusing on youth unemployment. She holds an LLB in Law from the University of Warwick and an MSc in Migration, Mobility and Development from the School of Oriental and African Studies, University of London.
Dr. Fabian Niemann
Fabian Niemann is partner at the international law firm Bird & Bird LLP, where he is the co-head of the international Technology & Communications Group and head of the German Data Protection Group. He is specialised in technology, digital media, cloud computing, copyright and data protection law and advises providers and customers in technology transactions, IT projects, data protection matters and copyright issues. He particularly focuses on issues arising from the use of new technologies and business models, such as cloud and data driven projects, IoT, AI and machine learning, and other issues of the digital transformation.
Presentations
Presentations will also be given by the GOAL project researchers:
The researchers from the Technical University of Kaiserslautern will give an insight into the possibilities for eGovernment in their lecture: "Understanding the risks of using ADM systems".
The researchers from the Westfälische Wilhelms University of Münster will present audience members with possibilities of transparency regulation regarding AI.
The researchers from the University of Hamburg will turn the audiences attention to ethical questions in the field of AI with their presentation: "A Process Perspective on ADM Systems: Lessons for Responsibility and Risk Assessment".
The researchers from the Ruhr University of Bochum will discuss a case study regarding behaviour control.
The researchers from the Karlsruhe Institute of Technology Assessment and Systems Analysis will address challenges associated with proposals regarding a risk-based approach for regulating AI and ADM systems with their presentation "Risk Regulation of Artificial Intelligence and Automated Decision Systems".
For the conference programme and further information visit our Website and follow us on Twitter.