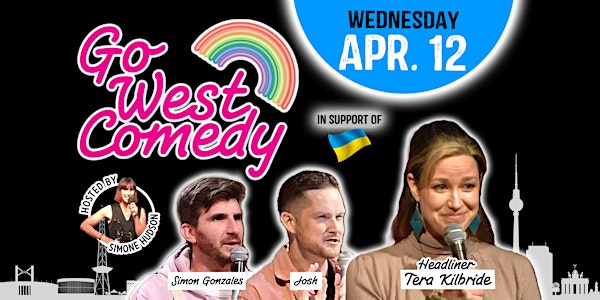 Go West Comedy with Headliner Tera Kilbride
Join us and find out why we're Berlin's best-kept comedy secret!
Datum und Uhrzeit
Mi., 12. Apr. 2023 20:00 - 23:00 CEST
Veranstaltungsort
Aha-Berlin e.V. Monumentenstraße 13 10829 Berlin Germany
Zu diesem Event
3 Stunden

Mobile E-Tickets
Join us and find out why we're Berlin's best-kept comedy secret! We're Schöneberg's longest-running English standup night, at one of the city's friendliest venues!
🤣 3 top comedians
🏆 Half-time quiz with prizes for you
🌈 Part of your donation goes to a charity supporting Ukraine
🚪 Doors open 8 p.m.
🎤 Show starts 9 p.m.
Our incredible lineup for April is:
Simon Gonzales 🇸🇪🇪🇸
Josh 🇦🇺
and our amazing headliner
Tera Kilbride 🇺🇸
...all presented by your host Simone Hudson, who's 50% New Zealander, 50% Swiss, and 100% fabulous! 🇳🇿🇨🇭
Plus... there will be a special half-time quiz where you can cool prizes. It's embarrassingly easy, we promise! 🏆
We don't wanna brag, but we're one of Berlin's longest-running comedy nights, and we've got a bit of a reputation (but in a good way)! We bring you the city's best English comics in a one-of-a-kind format that's both edgy and super friendly. We start with a lovely venue that is one of the oldest queer community organizations in Germany and add a lineup of hilarious people of all descriptions so we can laugh together and celebrate the diversity of Berlin at its best!
Suggested donation per person: EUR 10.
We can't wait to see you at the fabulous AHA for a night of incredible comedy! ❤️🏳️‍🌈👫👩‍❤️‍👩