Dieses Event ist beendet.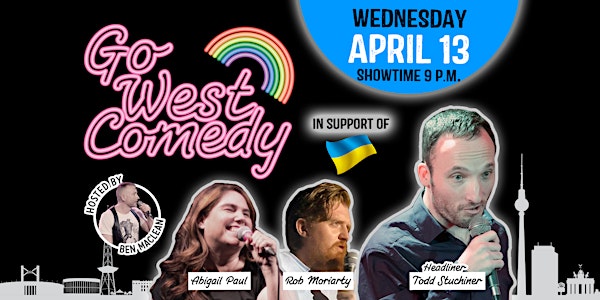 Go West Comedy Showcase with Headliner Todd Stuchiner
We're back for another showcase of incredible comedians at our charity venue with the friendliest vibes in town!
Zeit und Ort
Veranstaltungsort
Aha-Berlin e.V. Monumentenstraße 13 10829 Berlin Germany
Karte und Wegbeschreibung
Zu diesem Event
🤣 3 top comedians
🏆 Prizes for the audience
🌈 Part of your donation goes to support Ukraine-Hilfe Berlin e.V.
🚪 Doors open 8 p.m.
🎤 Show starts 9 p.m.
The fantastic comics for our show in April are
Abigail Paul (USA 🇺🇸)
Rob Moriarty (IRL 🇮🇪)
and our wonderful headliner,
Todd Stuchiner (USA 🇺🇸)
...all presented by your host Ben MacLean, the world's only bureaucrat turned flight attendant turned comedian (who you might've also seen in other "online" content)! 😂🙀🇨🇦
We don't wanna brag, but we're one of Berlin's longest-running comedy nights, and we've got a bit of a reputation (but in a good way)! We bring you the city's best English comics in a one-of-a-kind format that's both edgy and super friendly. We start with a lovely venue that is one of the oldest LGBTQIA+ community organizations in Germany and add a lineup of hilarious people of all descriptions so we can laugh together and celebrate the diversity of Berlin at its best!
Suggested donation per person: EUR 10.
About COVID: even if the rules in Berlin recently changed and we won't be checking vaccination certificates, test results, etc. at the door, please stay home and watch online if you're not feeling well. You're also welcome to wear a mask during the show if that makes you more comfortable.
We can't wait to see you at the fabulous AHA for a night of incredible comedy! ❤️🏳️‍🌈👫👩‍❤️‍👩