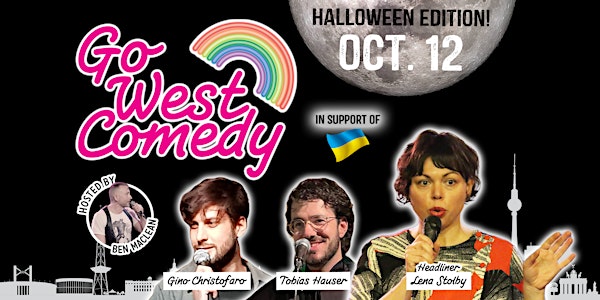 Go West Comedy Showcase with Headliner Lena Stolby
Join us for our special pre-Halloween Go West Comedy Showcase!
When and where
Location
Aha-Berlin e.V. Monumentenstraße 13 10829 Berlin Germany
About this event
We've got three of Berlin's best comics in a friendly (but unpredictable!) show where all your donations actually go to the performers and a charity helping Ukraine! 🇺🇦 Hosted by loveable Canadian funny guy Ben MacLean, the world's only bureaucrat-turned-flight-attendant-turned-comedian. 😉🇨🇦
Plus... we're the only show in town with a crazy Lip Sync Battle halftime show where co-hosts Ben and Simone make a fool of themselves on stage so you can just sit back and win great prizes! 🏆 And seeing as it's the lead-up to Halloween, the performances will be extra scary. 😝
🚪 Doors open 8 p.m.
🎤 Show starts 9 p.m.
🙏 Minimum donation per person of €10, please
The fantastic comics in October will be...
Gino Christofaro 🇩🇪🇧🇷
Tobias Hauser 🇦🇹
and our wonderful headliner,
Lena Stolby 🇷🇺
We don't wanna brag, but we're one of Berlin's longest-running comedy nights, and we've got a bit of a reputation (but in a good way)! We bring you the city's best English comics in a one-of-a-kind format that's both edgy and super welcoming. We start with a lovely venue that is one of the oldest LGBTQIA+ community organizations in Germany and add a lineup of hilarious people of all descriptions so we can laugh together and celebrate the diversity of Berlin at its best!
We can't wait to see you at the fabulous AHA for a night of incredible comedy! ❤️🏳️‍🌈👫👩‍❤️‍👩