Dieses Event ist beendet.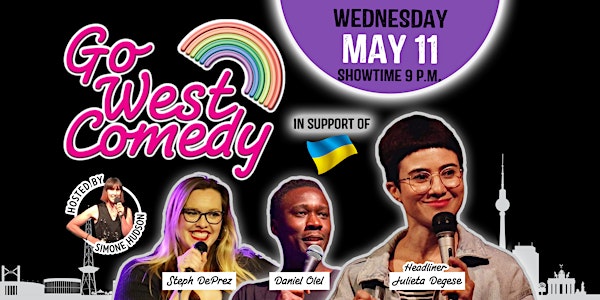 Go West Comedy Showcase with Headliner Julieta Degese
We're back with another showcase of incredible comedians at our super friendly charity venue in Schöneberg!
Zeit und Ort
Veranstaltungsort
Aha-Berlin e.V. Monumentenstraße 13 10829 Berlin Germany
Karte und Wegbeschreibung
Zu diesem Event
🤣 3 top comedians
🏆 Crazy lip sync battle... we do the work, you win the prizes!
🌈 Part of your donation goes to support Ukraine-Hilfe Berlin e.V.
🚪 Doors open 8 p.m.
🎤 Show starts 9 p.m.
The fantastic comics for our show in April are
Steph DePrez (USA 🇺🇸)
Daniel Olel (UGA 🇺🇬)
and our wonderful headliner,
Julieta Degese (ARG 🇦🇷)
...all presented by your host Simone Hudson, who's part New Zealander, part Swiss, and 100% fabulous! 🇳🇿🇨🇭
We don't wanna brag, but we're one of Berlin's longest-running comedy nights, and we've got a bit of a reputation (but in a good way)! We bring you the city's best English comics in a one-of-a-kind format that's both edgy and super friendly. We start with a lovely venue that is one of the oldest LGBTQIA+ community organizations in Germany and add a lineup of hilarious people of all descriptions so we can laugh together and celebrate the diversity of Berlin at its best!
Suggested donation per person: EUR 10.
We can't wait to see you at the fabulous AHA for a night of incredible comedy! ❤️🏳️‍🌈👫👩‍❤️‍👩