Dieses Event ist beendet.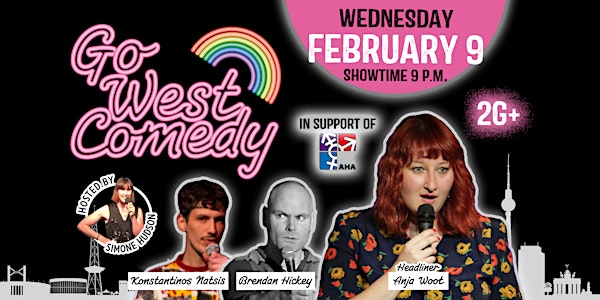 Go West Comedy Showcase with Headliner Anja Woot (2G+)
We're back for another showcase of incredible comedians at our charity venue with the friendliest vibes in town!
Zeit und Ort
Veranstaltungsort
Aha-Berlin e.V. Monumentenstraße 13 10829 Berlin Germany
Karte und Wegbeschreibung
Zu diesem Event
🤣 3 top comedians
🏆 Prizes for the audience
🌈 Your donation goes to support our non-profit home and the performers
🚪 Doors open 8 p.m.
🎤 Show starts 9 p.m.
Our fantastic comics for February's show are
Konstantinos Natsis (GRC 🇬🇷)
Brendan Hickey (IRL 🇮🇪)
and amazing headliner
Anja Woot (SVN 🇸🇮)
...all presented by your host Simone Hudson, who's part New Zealander, part Swiss, and 100% fabulous! 🇳🇿🇨🇭
This is a 2G+ event. Please bring your digital vaccination certificate or proof of recovery, PLUS a negative test result that's no more than 24 hours old OR proof that you've gotten your booster.
We don't wanna brag, but we're one of Berlin's longest-running comedy nights, and we've got a bit of a reputation (but in a good way)! We bring you the city's best English comics in a one-of-a-kind format that's both edgy and super friendly. We start with a lovely venue that is one of the oldest LGBTQIA+ community organizations in Germany and add a lineup of hilarious people of all descriptions so we can laugh together and celebrate the diversity of Berlin at its best!
Suggested donation per person: EUR 10.
AHA will also broadcast the event live on their YouTube page. Just go to https://www.youtube.com/channel/UCgrNu60t97V8oJVwn0DnN7w. (Please note that only those attending in person are eligible for prizes during our half-time quiz.)
We can't wait to see you at the fabulous AHA for a night of incredible comedy! ❤️🏳️‍🌈👫👩‍❤️‍👩
#LGBT #LGBTQIA #Berlin #comedy #Schöneberg