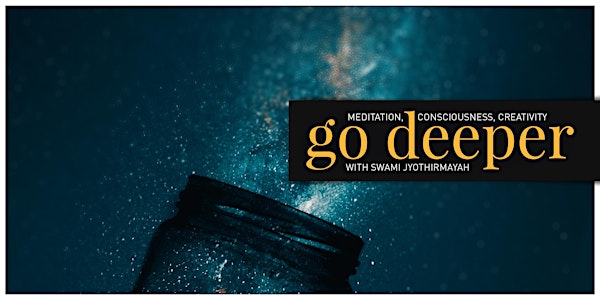 Go Deeper - Tübingen
Go Deeper - Meditation, Consciousness & Creativity with Swami Jyothirmayah
By Art of Living -Germany
Date and time
Monday, February 6 · 8 - 9pm CET
Location
Hermann-Schweitzer-Straße 1 Hermann-Schweitzer-Straße 1 72074 Tübingen Germany
About this event
Go Deeper! - Meditation, Consciousness & Creativity
Auf Deutsch & Englisch
What is it about?
Going deeper involves more than just concentration and in-depth thought.
It's about letting go of preconceived notions about who you are, what you want, and how much potential you have.
It implies moving past cliches to actual substance.
Worum geht es?
Tiefer gehen bedeutet mehr als nur Konzentration und gründliches Nachdenken.
Es geht darum, vorgefasste Meinungen darüber loszulassen, wer du bist, was du willst und wie viel Potenzial du hast.
Es impliziert, Klischees hinter sich zu lassen und sich dem Essentiellen zuzuwenden.
So how do we Go Deeper?
When the mind takes the deepest rest, it becomes so fresh and alive. And after that deep rest, concentration is spontaneous. It's natural. Concentration becomes effortless. We are able to contemplate without strain.
When we relax and go within, our intuition grows and we tap into our own unique way of problem solving - intuitive and personalised solutions to everything that life throws our way. A few minutes of daily meditation is the greatest secret to creative success.
With meditation, we relax into ourselves, our consciousness shines, and creativity arises.
The secret to going deeper is a few minutes of breathwork & meditation. In the workshop, Swami Jyothirmayah will not only talk about the functioning of consciousness but will also lead us through both breathwork and meditation, enabling us to come in touch with the finer layers of our consciousness.
Wie gehen wir also tiefer?
Wenn der Geist die tiefste Ruhe findet, wird er frisch und lebendig. Und nach dieser tiefen Ruhe ist die Konzentration spontan. Ganz natürlich. Konzentration wird mühelos. Wir können ohne Anstrengung nachdenken.
Wenn wir uns entspannen und nach innen gehen, wächst unsere Intuition und wir erschließen unsere eigene einzigartige Art der Problemlösung – intuitive und personalisierte Lösungen für alles, was das Leben uns in den Weg stellt. Ein paar Minuten täglicher Meditation sind das größte Geheimnis für kreativen Erfolg.
Durch Meditation entspannen wir uns in uns selbst, unser Bewusstsein erstrahlt und Kreativität entsteht.
Das Geheimnis, um tiefer zu gehen, sind ein paar Minuten Atemarbeit und Meditation. In diesem Workshop wird Swami Jyothirmayah nicht nur über die Funktionsweise des Bewusstseins sprechen, sondern uns auch durch Atemarbeit und Meditation führen und es uns ermöglichen, mit den feineren Schichten unseres Bewusstseins in Kontakt zu kommen.

Why Go Deeper?
Quite simply, to be able to live life to its fullest. To get the most out of each moment and experience life has to offer and to give our best to everything we do.
Going Deeper is also the essence of the spiritual journey. While we dig deeper to push ourselves through an especially hard workout, we simply go deeper into meditative states of calm and bliss with the right guidance and techniques.
The Art of Living offers a 90 minute workshop titled "Go Deeper" with Swami Jyothirmayah at several locations in Germany. Swami Ji's Ten-city tour provides us with the opportunity to explore the depths of our awareness, be receptive and available to our personal needs as well as the needs of society, and uncover the beauty concealed within ourselves.
Warum tiefer gehen (Go Deeper) ?
Ganz einfach, um das Leben in vollen Zügen genießen zu können. Das Beste aus jedem Moment herauszuholen und all das erleben, was das Leben zu bieten hat, und bei allem, was wir tun, unser Bestes zu geben.
Tiefer gehen ist auch die Essenz der spirituellen Reise. Während wir tiefer graben, um uns durch ein besonders hartes Training zu pushen, gehen wir mit der richtigen Anleitung und den richtigen Techniken einfach tiefer in meditative Zustände der Ruhe und Glückseligkeit.
The Art of Living bietet an mehreren Standorten in Deutschland einen ein- bis zweistündigen Workshop mit dem Titel "Go Deeper" mit Swami Jyothirmayah an. Swami Jis Zehn-Städte-Tour bietet uns die Möglichkeit, die Tiefen unseres Bewusstseins zu erforschen, empfänglich und verfügbar für unsere persönlichen Bedürfnisse sowie die Bedürfnisse der Gesellschaft zu sein und die in uns verborgene Schönheit zu entdecken.
How will it help?
Who wouldn't want to be happier, healthier, more efficient and productive? Going Deeper helps with all of this and more.
Finding your passion
Beating the stresses of daily life
The ability to smile more
Find the all elusive balance in life
Cherish life
Join in as Swami Jyothirmayah enables us to explore our consciousness and tap into creativity & intuition via meditation and breathwork.
Wie wird es helfen?
Wer möchte nicht glücklicher, gesünder, effizienter und produktiver sein? Going Deeper hilft bei all dem und mehr.
Finden deine Leidenschaft
Den Stress des Alltags meistern
Die Fähigkeit, mehr zu lächeln
Finde das schwer fassbare Gleichgewicht im Leben
Schätze das Leben
Mach mit, wenn Swami Jyothirmayah es uns ermöglicht, unser Bewusstsein zu erforschen und Kreativität und Intuition durch Meditation und Atemarbeit zu nutzen.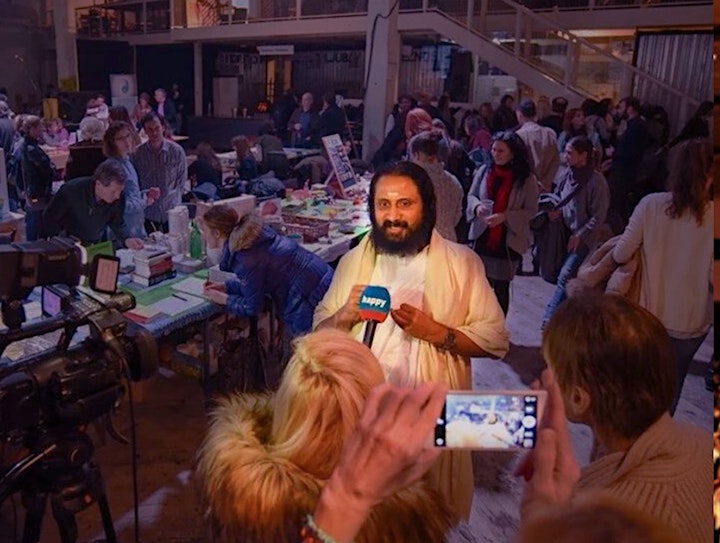 About Swami Jyothirmayah:
Swami Jyothirmayah is a senior disciple of Gurudev Sri Sri Ravi Shankar, a world-renowned spiritual leader.
As International Director of "The Art of Living Foundation," he travels the world to promote a stress-free society and to spread Sri Sri's message of love, peace, and universal brotherhood. He exemplifies how to live a busy life without stress and be happy.
He offers workshops and talks on meditation, breath work and applying ancient wisdom to current living at conferences all throughout Europe. His courses are highly sought after, particularly for the deep and profound meditations he guides and the clarity with which he conveys complex and deep ideas.
Read more about Swami Jyothirmayah.
Über Swami Jyothirmayah:
Swami Jyothirmayah ist ein erfahrener Schüler von Gurudev Sri Sri Ravi Shankar, einem weltberühmten spirituellen Meister.
Als internationaler Direktor der "The Art of Living Foundation" bereist er die Welt, um eine stressfreie Gesellschaft zu fördern und Sri Sri's Botschaft von Liebe, Frieden und universeller Gemeinschaft zu verbreiten. Er zeigt beispielhaft, wie man ein geschäftiges Leben ohne Stress führt und glücklich ist.
Auf Konferenzen in ganz Europa bietet er Workshops und Vorträge über Meditation, Atemarbeit und die Anwendung alter Weisheiten auf das aktuelle Leben an. Seine Kurse sind sehr gefragt, insbesondere wegen der starken und tiefgreifenden Meditationen, die er anleitet, und der Klarheit, mit der er komplexe und tiefgründige Ideen vermittelt.
What people are saying about Meditating with Swami Jyothirmayah
- "Thank you Swami ji for bringing this knowledge and meditation to us. It was a very deep meditation for me." Viktor, Germany
- "I did sleep really deep. I can already now after this Masterclass feel a difference in me. At the same time as I feel relaxed and grounded I somehow feel that my body and mind are asking "what is this and what is going on". Ulla-Katarina, Bulgaria
- "Thank you, it was such a relaxing experience. This knowledge & meditation has helped me work through my childhood traumas and enabled me to smile freely again. Thank you" Brigit, Germany

About the organizer
The Art of Living Foundation (AOLF) ist eine gemeinnützige, humanitäre Organisation, die 1981 vom weltweit anerkannten Friedensbotschafter und spirituellen Lehrer Sri Sri Ravi Shankar gegründet wurde. Alle Kurse und Workshops der Art of Living orientieren sich an Sri Sri's Philosophie einer stressfreien, gewaltfreien Gesellschaft.
Die Art of Living spricht mit ihren Kursen zu Selbstentwickung und Stressmanagement Menschen aus allen Lebensbereichen, Kulturen und Religionen an. Die kraftvollen Techniken der Kurse, u.a. Atemtechniken - die Sudarshan Kriya®, Meditation, Yoga und yogisches Wissen, haben bereits Millionen von Menschen auf der ganzen Welt dabei geholfen, ihr Leben positiv zu verändern. 
Zusätzlich zu diesen weltweit angebotenen Kursen hat AOLF in Zusammenarbeit mit der International Association for human Values (IAHV) zahlreiche humanitäre Projekte und Initiativen erfolgreich umgesetzt, darunter Konfliktlösungsprogramme, Katastrophenhilfe, nachhaltige ländliche Entwicklung, Stärkung von Frauen, Gefangenen Rehabilitation, Bildung für alle und ökologische Nachhaltigkeit.