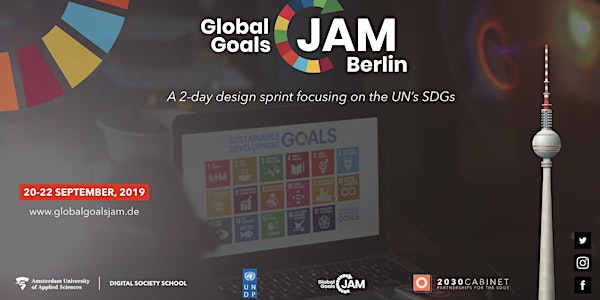 Global Goals Jam Berlin 2019 #1
When and where
Location
Fjord Berlin Pappelallee 78 - 79 10437 Berlin Germany
Description
Join us for our pitch night on Sunday, 22nd Sept, to find out about the solutions the teams designed! Click here!


CREATE SOLUTIONS FOR SUSTAINABILITY CHALLENGES DURING A 2-DAY SPRINT!
Are you passionate about solving social challenges to improve lives?
Join us in the 2nd edition of the #GlobalGoalsJam in Berlin where local innovators and creatives will join teams around the world in designing actionable interventions towards achieving the SDGs.
We invite you to expand your network and learn design methods. The Global Goals Jam consists of short design sprints. As a participant, you and your group will create solutions aimed atthis year's global themes:
Water and Climate Change (SDG 4, SDG 13)

Migration (SDG 10, SDG 16)

Electronic Waste (SDG 12)

Sustainable Development for People and Planet (SDG 1, SDG 8)
Let's #design2030 now!

During the 2015 Social Good Summit, 193 world leaders committed to achieving 17 Sustainable Development Goals by the year 2030. As an initiative of the United Nations Development Programme and the Digital Society School, the Global Goals Jam seeks to design realistic, actionable interventions for these goals.
For more information:
To stay up to date about the Berlin Jam, head to our facebook page: https://www.facebook.com/events/1163041463879712/
Prefer twitter? Follow us at @2030Cabinet and @GlobalGoalsBER
*** Food & Drinks are served:
Friday dinner / Saturday Lunch & Dinner / Sunday Lunch - drinks & snack for dinner