Location
Hochschule für Fernsehen und Film
Bernd-Eichinger-Platz 1
80333 München
Germany
Description
Be part of an unforgettable event that fosters social change.
Experience 35 excellent young people from over 30 different countries.
Witness the presentation of innovative social business ideas challenging migration all over the world.
Out of over 600 applicants, 105 students from 54 nations have been selected to develop innovative solutions for the challenges caused by migration – this year, for the first time in Munich, Mexico City and Shanghai.
Within 7 days, these talents are developing innovative and impact-driven solutions for this year's global challenge "Migration". According to the UNHCR, 65.3 million people around the world have been forced from home.
On September 16th, the #GESS2016 class in Munich of 35 future entrepreneurs from 30 nations will pitch their solutions to a public audience and will be evaluated by a professional jury of serial entrepreneurs, social venture capitalists and international experts on migration.

The event will be highlighted by our special guest and keynote speaker Markus Kressler from Kiron, who will give us some insights about his successful venture. Being a student, he co-founded one of the most innovative and entrepreneurial initiatives of our time to provide education for refugees on a global scale.
We promise you an inspiring and mind changing evening with outstanding ideas, motivating people and many surprises.
We are looking forward to meeting you at the finals of the Global Entrepreneurship Summer School 2016 in Munich!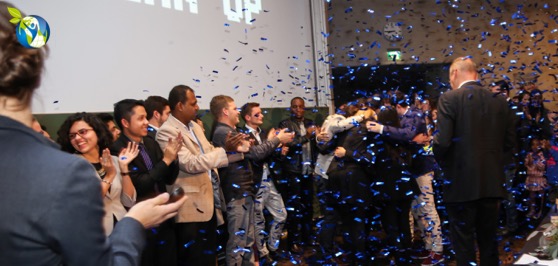 FAQs
Why is the topic of this year's summer school "Migration"?
"We are facing the the biggest refugee and displacement crisis of our time. Above all, this is not just a crisis of numbers; it is also a crisis of solidarity," said Ban Ki Moon, United Nations Secretary General. According to the UNHCR, on average 24 people worldwide were displaced from their homes every minute of every day during 2015. We see the ongoing mass displacement as a global challenge which GESS wants to address and craft new solutions that aim for international peace and stability with its participants. (http://www.un.org/press/en/2016/sgsm17670.doc.htm)

Is my registration/ticket transferrable?
Yes. You can also invite additional colleagues and friends to the event. But please make sure, everyone registers via Eventbrite due to limited seats. If you are registered already, but something prevents you from coming last minute, please write a short email to info@globalsummerschool.org.

Where can I contact the organizer with any questions?
Please write an e-mail to: info@globalsummerschool.org.
How can I easily find the venue?
Easiest arrival is by public transport due to limited parking options.
You can either take Tram 27/28, station »Karolinenplatz« or the Bus 100/150, station »Pinakotheken«