About this Event
All round tour package
Day 1 - Arrival
A Warm welcome at the Kotoka International Airport (Ghana - Accra)
Transfer to your hotel/apartment in an air condition vehicle.
Day 2 – City Tour (24/06/2019)
You will tour in the city of Accra through the independence square, National Theater, James Town ( fishing and boxing village), Kwame Nkrumah Mausoleum, Mokola market Salaga Market and the timber market to have the feel of Ghanaian market and the city of Osu.
Day 3 – ABuri Gardens and Akosombo Boat Cruise (25/06/2019)
A visit to the Botanical Gardens, which is famous beyond the borders of the country, here not only the plants native to Ghana but also imported exotic plants from Asia, South America and other parts of Africa. You will also cruise at Akosombo.
Day 4 and 5 – Cape Coast Tour (overnight in Cape coast 26/06/2019 – 28/06/2019 )
A visit to the capital of the British colony of Gold Coast and the starting point for the shipment of large part of slave and tour at the Kakum National Park, finally you will enjoy a walk at a beautiful beach.
Day 6 and 7 – Kumasi Tour (28/06/2019 – 30/06/2019)
A visit to the Ashanti Kingdom palace, Lake Bosumtwe and Kante weaving (a village in the Ashanti Region).
Day 8– Back to Accra
A visit to beach in Accra and buying of souvenirs
Day 9
Farewell and Departure
NB: Cost of the tour is from €880 . Kindly email me for more details on different packages. All deposits are non-refundable. The package does not include FLIGHT TICKET, VISA AND YELLOW FEVER VACCINATION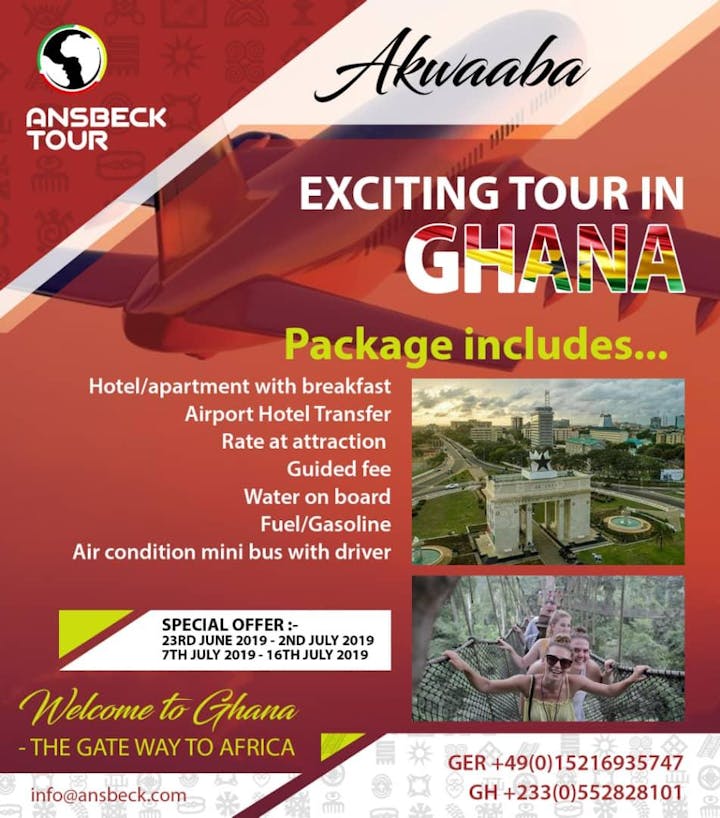 Entdecken Sie Ghana in einem 10-tägigen Reisepaket mit wunderschönen Stränden, historischen Orten und Museen in der Stadt und im Küstenbereich des Landes. Unser Englisch - Deutsch Reiseleiter führt Sie durch eine unvergessliche Reise durch Ghana. Wir haben ein spezielles Paket für Einzelreisende und Gruppenreisende nach Ghana
Rundum-Pauschalangebot
Tag 1 - Ankunft
Herzlich Willkommen am Kotoka International Airport (Ghana - Accra)
Transfer zu Ihrem Hotel / Apartment in einem klimatisierten Fahrzeug.
Tag 2 - Stadtrundfahrt (24/06/2019)
Sie werden in der Stadt Accra durch den Unabhängigkeitsplatz, das Nationaltheater, James Town (Fischer- und Boxendorf), das Kwame Nkrumah Mausoleum, den Mokola Market Salaga Market und den Holzmarkt gehen, um das Gefühl des ghanaischen Marktes und der Stadt Osu zu vermitteln.
Tag 3 - ABuri Gardens und Akosombo Bootsfahrt (25/06/2019)
Ein Besuch des Botanischen Gartens, der über die Landesgrenzen hinaus bekannt ist. Hier werden nicht nur die in Ghana beheimateten Pflanzen, sondern auch exotische Pflanzen aus Asien, Südamerika und anderen Teilen Afrikas importiert. Sie werden auch in Akosombo cruisen.
Tag 4 und 5 - Cape Coast Tour (Übernachtung in Cape Coast) 26/06/2019 – 28/06/2019 )
Ein Besuch in der Hauptstadt der britischen Kolonie Gold Coast und der Startpunkt für die Verschiffung eines großen Teils der Sklaven und der Tour im Kakum National Park. Schließlich genießen Sie einen Spaziergang an einem wunderschönen Strand.
Tag 6 und 7 - Kumasi Tour (Übernachtung in Kumasi) 28/06/2019 – 30/06/2019
Ein Besuch des Ashanti Kingdom Palace, des Lake Bosumtwe und der Kante Weberei (ein Dorf in der Ashanti Region).
Tag 8 - Zurück nach Accra
Ein Strandbesuch in Accra und Kauf von Souvenirs
Tag 9
Abschied und Abreise
Paket enthalten
9x übernachtungen mit Frühstück (Hotel / Apartment)
Flunghafen Hotel Transfer
Eintrittsgebühren
Wasser an Bord
Kraftstoff / Benzin
Klimaanlage Minibus mit Fahrer
Exklusiv
Flugticket, Visa Gebühr, Gelbefieber schutzimpfung und Einkaufen
Tourtage 2019
Einzeltermin oder Gruppenterminplan
23. Juni - 2. Juli 2019 oder
7. Juli - 16. Juli 2019
KONTAKT: GER +49 (0) 15216935747 GH +233 (0) 552828101
Mehr info :
info@ansbeck.com
NB: Rundum-Tour kostet ab €880. Alle Einzahlungen sind nicht erstattungsfähig.