Location
PlaceOne - Panoramabar Berlin
Strausberger Platz 1
13. Etage (Panoramabar)
10243 Berlin
Germany
Description
Join this unique MasterClass with Joseph Jaworski and Susan Taylor on:
Essences of 40 Years Facilitating from Source and Generative Dialogue


For the first time in a MasterClass, Joseph Jaworski and Susan Taylor will share with us their in-depth knowledge and wisdom on what it takes to facilitate from Source - sharing the essences of their lifetime engagement in that field.
What you will learn and experience:
In this unique MasterClass you will learn how to master the inner game to become more effective in the outer game as a facilitator, leader, changemaker, coach, and consultant such as to:
harvest and explore the key essences and principles of facilitating from Source
activate your Generative Self as leader, facilitator and changemaker - and how to bring it both into your work and everyday life
explore what it takes to facilitate people and organisations along the bottom of the U process
how to deal with challenges in navigating transformations and how to stay open and connected when the times get rough
experience powerful approaches to facilitating generative dialogue and how to practice and cultivate it in teams and organisations
learn from wisdom stories and ignite your own generative storyfield connected to Source
integrate all that you have learned into your own practice and learn about ways how to sustain the changes
The MasterClass allows for both a personal and a collective learning journey. It emphasizes concrete experience, practical applications, deep reflection, and exploration of how to transfer insights to your own facilitation practice.
Become a part of the Generative Facilitation Learning Community by meeting other inspiring facilitators and engaging in peer coaching and learning with inspiration, compassion, and encouragement.
Places to this MasterClass will be limited in order to allow for deep dialogues and generative learning with enough space to bring in each voice and wisdom.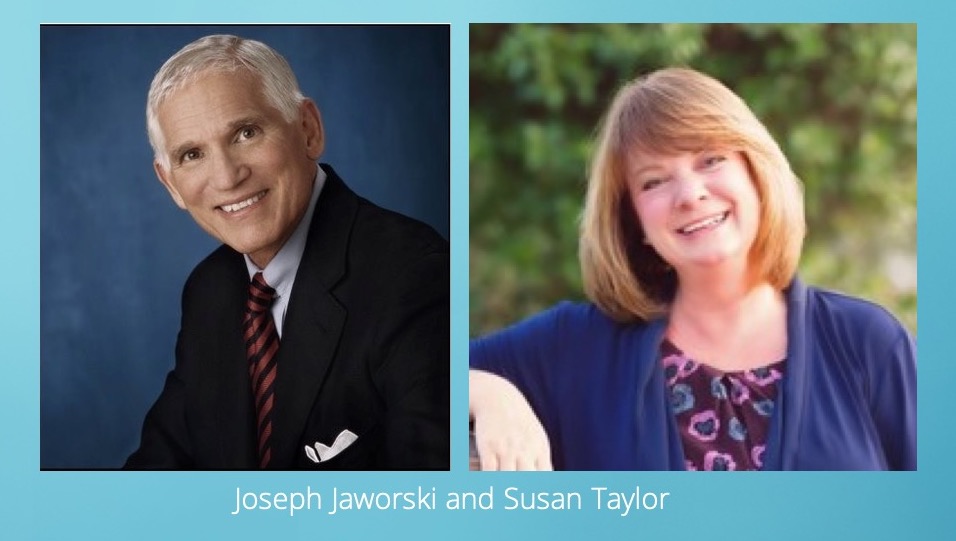 Facilitation Team:
Joseph Jaworski (Generon International) as Special Guest of this MasterClass
Susan Taylor (Generon International) as Special Guest of this MasterClass
Christine Wank (Founder Generative Facilitation Institute) as Host
Joseph Jaworski has devoted much of his life to exploring the deeper dimensions of faciliting transformational leadership and change. As founder and Chairman of both Generon International and the Global Leadership Initiative, Joseph advises CEOs and senior executives in Fortune 500 companies. He specializes in the design and execution of large scale organizational change as well as strategy formation and implementation. He is a pioneer and prominent thought leader in the discipline of 'Strategic Foresight', enabling leaders to deepen their capacity for tactical and strategic insight.
After a highly successful professional career as an attorney and litigator, Joseph founded the American Leadership Forum in 1980, a non-governmental organization dedicated to strengthening collaborative civic leadership in the United States. Ten years later, he joined the Royal Dutch/Shell Group of companies in London to head Shell's renowned team of scenario planners. Under his leadership, the Shell team made a fundamental shift in the way the company framed and used scenarios as a tool for strategy formation. Joseph encouraged the company to use scenarios not merely to adapt to different possible futures, but to generate—to participate in bringing forth—better futures.
Joseph returned to the U.S. as a senior fellow and member of the Board of Governors of the MIT Center for Organizational Learning, later co-founding the Society for Organizational Learning (SoL). Jaworski is the author of the critically acclaimed international best-seller, Synchronicity: The Inner Path of Leadership (2ndEdition released June 6, 2011). He is also co-author of Presence: An Exploration of Profound Change in People, Organizations, and Society(Doubleday/SoL, 2005), which explores the collaborative development of a new theory of profound innovation and change.
Joseph's most recent book, Source: The Inner Path of Knowledge Creation, was published in January 2012. That book describes the development of the process of Generative Discovery, which enables organizations, teams and individuals to access the source from which truly profound innovation and discovery flow. Jaworski currently resides in Austin, Texas.
Susan Taylor has devoted much of her life to exploring the deeper dimensions of human potential. As CEO of Generon International, Susan collaborates with leaders, teams and organizations to create more effective, advanced, conscious contributions to business and society. One of her passions lies in facilitating generative dialogue which asks for both courage and compassion and how to nurture it in working with teams and organisations navigating transformations.
Susan is a certified group facilitator through Interaction Associates and a certified coach through CTA. She is ICF certified and a member of the ForbesCoaches Council, an invitation-only organization for successful business and career coaches. Susan's expertise in Generative Dialogue and executive coaching are routinely applied as she works with executives to build organizational cultures that are values-based and purpose-driven.
Susan is a multi-contributor to Forbes and a champion for Conscious Capitalism, helping to cultivate businesses that are good, ethical, noble and heroic. Through advanced leadership development, Susan helps companies become more conscious through transformational experiences that inspire, educate and empower them to elevate humanity through business, helping to create a world in which business is both practiced and perceived as the greatest force for good.
Susan has two daughters, Carolanne and Erin, and currently resides on Hilton Head Island, SC with her life partner, Christopher Walsh.
Christine Wank is the founder of the Generative Facilitation Institute and Facilitate U. She is a highly experienced international facilitator, trainer and coach in the field of facilitating transformations, innovation and leadership development. Since two decades, she works with people and organizations from business, government and NGOs across the globe to reach their full potential and to shape the world in a responsible and purposeful way. During the last years she has supported leaders and organisations in successfully navigating transformation in the digital age and in dealing with respective challenges of social, emotional and moral complexities.
Christine is co-crafting the approach of generative facilitation by connecting the dots between different disciplines, facilitation approaches and wisdom traditions in order to strengthen facilitators, leaders, and changemakers in successfully facilitating profound change and transformation by integrating the intelligence of the head, heart and hand. She has a broad and in-depth training background being a certified Systemic and Hypnosystemic Coach and Consultant (Gunther Schmidt, Fritz Simon), Senior and Masterclass Practitioner in Theory U (Otto Scharmer, Peter Senge, Ed Schein), Certified in Generative Coaching (Stephen Gilligan, Robert Dilts), in Mindfulness, Emodiment and Social Presencing Theatre (Arawana Hayashi, Arthur Zajonc) as well as in Neuro Sciences (Daniel Siegel, Gunther Schmidt). She is a certified HeartMath Coach and Trainer fostering emotional intelligence and resilience in facilitators, leaders and teams. She is one of the regional representatives of the International Association for Generative Change (IAGC) for Germany, Austria and Switzerland and a senior facilitator of the Presencing Institute.
Time and Location:
The MasterClass will be run April 27-30, 2020 in Berlin.
Day 1: 3.30pm-7.30pm including Welcome Reception
Day 2: 9.00am-5.30pm
Day 3: 9.00am-5.30pm
Day 4: 9.00am-5.00pm

The MasterClass takes place in the beautiful venue of Place One with stunning views over Berlin from the tower rooftop at Strausberger Platz. For an impression of the venue, visit:
https://rundgang.inside-view.de/de/vt/PlaceOne/d/31633/siv/1
Rates:
Early Bird Rate (limited number of tickets) until September 30, 2019: 1.990 EUR plus 19% VAT
Regular Rate: 2.190 EUR plus 19% VAT
Rates include:
the training and venue

training material and MasterClass reader

personal journal

coffee and tea during the coffee breaks

welcome reception on the first day
Travel, accommodation and meals will be self-organized and covered by the participants themselves. You can find a list of recommended hotels near the venue below.
Please note:
We want to secure the smooth running of this MasterClass. In case that one of the two masters (either Joseph Jaworski or Susan Taylor) will not be able to attend, the MasterClass will still be conducted with the other master as well as one of the GFI facilitators (Christine Wank) whereas we seek to bring in the other master per video.
In case that both masters will not be able to attend, we will still run the MasterClass with GFI faculty with the same focus on "Facilitating from Source" facilitating an in-depth learning journey with the participants whereas we seek to bring in both masters by video.
Further Information:
This MasterClass is offered by the Generative Facilitation Institute (GFI), dedicated to providing unique learning opportunities for facilitators, leaders and changemakers. Our aim is to link the outer with the inner dimension of facilitation and to integrate the intelligence of the head, heart and hands for leveraging impact and making meaningful generative change happen.
For further information, please contact:
Christine Wank (Generative Facilitation Institute) via: info@generativefacilitation.com
FAQs
Which hotels and apartments are close to the venue and how do I get there?
Adress of the event:
PlaceOne
Strausberger Platz 1
13. Etage
10243 Berlin
Closest Metro Station: Strausberger Platz (U5)
Accomodations close to the venue:
Pension Reiter Berlin
Palisadenstraße 53
10243 Berlin
+49 30 42800281
Distance: One station U5 Weberwiese
www.motel-one.com/de/hotels/berlin/hotel-berlin-alexanderplatz/#t=hotelinfo
Motel one
Dircksenstraße 36
10179 Berlin
+49 30 200 54 08-0
Distance: 2 Stations U5 Alexanderplatz
Novum Select Hotel Berlin Ostbahnhof
Lange Straße 31
10243 Berlin
+49 4930 293030
Distance: Two stops with Bus 142 until: Andreasstr./ Langestr.
Ibis Budget Berlin Alexanderplatz
Mollstraße 31
10249 Berlin
+49 30 339391120
Distance: Five stops with Bus 142 until: Mollstr./ Otto-Braun-Str.
Soho House Berlin
Torstraße 1
10119 Berlin
+49 30 4050440
Distance: Six stops with Bus 142 until: Mollstr./ Prenzlauer Allee
Cancellation Policy
In the event that you need to cancel your participation in this MasterClass, the following policies apply:
Up to 90 days before the start of the event we offer a full refund of the transferred rate, minus a handling and service fee of 150 EUR and any banking fees involved.
Up to 50 days before the start of the event we offer a 50% refund of the transferred rate, minus a handling and service fee of 150 EUR and any banking fees involved.
For cancellations after 50 days before the start of the event we cannot offer any refunds due to made arrangements.
In the highly unlikely event that we need to cancel or shift the date for this MasterClass we will fully refund your rate (either early bird or regular, depending on your booking). We cannot cover any other expenses or cancellation costs involved, such as cancellation fees for transport (flight, train, etc.) or accommodation.
Please note that the venue may be changed in order to best fit the group size.