Dieses Event ist beendet.

Veranstaltungsort
DCI Berlin
Vulkansraße 1
10367 Berlin
Germany
You are stuck in your job or unemployed? You want to work remote or as a freelancer? Get in charge of your career in tech!
Zu diesem Event
At this event, you will learn how to start a flexible career. The Digital Career Institute is a certified education provider that helps people with no prior technical experience to get a start in tech.
Want to get into the tech industry too? Secure, well-paid, and flexible jobs are waiting for you! 🚀
💫 Contents
Learn about the pre- & post-Covid working conditions
Best jobs with flexible working conditions
Easy career change opportunities
Discover 100% financed courses to start in tech if you are unemployed
👨‍🎓What our students say about us: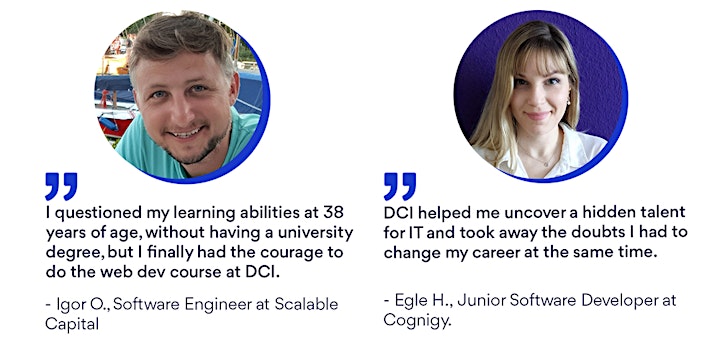 Our students come from very different backgrounds. 🌈 They have many different professional backgrounds, are young and old, and come from over 110 different nations. They are proof that anyone can make it in the tech industry.
🧑‍💻 A DCI graduate at work:
Work from home, as a digital nomad or freelancer. Be valued by employers the way you deserve it.💙
We are looking forward to meeting you!
Your DCI-Team
(oi:BER-FLEX-EN-2022-07-06)