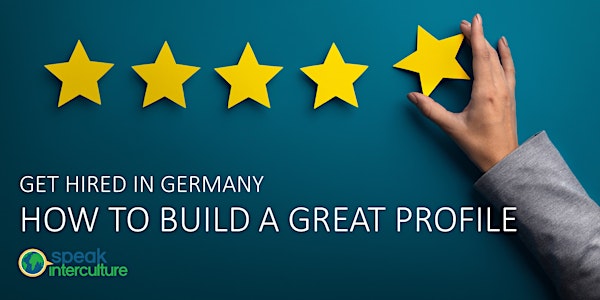 Get Hired in Germany #1 | How to Build a Great Profile: The Red Thread
Compact career coaching for international job seekers in Germany - get great tips and expert feedback!
About this event
Finding - and getting - a job that really fits you is a challenge, and it's even more of a challenge when you're doing it in Germany. Not sure if your CV/resume fully markets your skills and experience? Maybe you feel like cover letters are a great mystery - or even a waste of time? Forget application handbooks, career blogs, and consulting resume writers, and polish your self-marketing skills in these structured small-group coaching sessions.
Each of these structured mini-coaching sessions is focused on one of four themes (listed below). We'll begin with a very short interactive overview of the most important tips, and then we'll develop your self-marketing skills through tested, effective coaching activities to build your skills - and your application - in real-time and with personalized feedback from an experienced career coach. Give yourself the gift of setting aside a few hours to improve your career skills and get where you want to go!
Session One How to Build a Great Profile: The Red Thread
What's the key to great self-marketing - and what's special about Germany? How do you know what you're really great at, and how can you showcase your strengths in a way that gets employers interested? We'll find the all-important red thread in your experiences and build a profile toolkit which will help your applications write themselves!
Session Two How to Write a Great CV
How do you write a great CV for the German market? What goes in - and what's best left out? What can you do to highlight your experiences and talents? Learn tips and tricks for creating a solid CV/resume, how to design your resume for the German (and English-speaking) job market, and get expert feedback on how to get past applicant tracking systems (ATS) and get your resume seen by a human!
Session Three How to Successfully Market Your Skills: The Pitch
Reaching out to companies can feel a bit daunting - what do you say to get noticed? We'll learn to rethink the cover letter and use a tested and effective method to create a compelling pitch for getting in touch with organizations and getting you from the application to the interview.
Session Four How to Find a Job in Germany: The Search
Finding a job to apply for can be challenging, and sometimes it feels a bit frustrating. We'll explore the job market in Germany and take a look at some areas you might not have considered. We'll learn how to identify what you're qualified for, and how and when to approach organizations that you're interested in that don't have a job posting, and develop a strategy for steps to take if you're not hearing back.
Info Session Get Hired in Germany: Understanding The German Job Market (free)
In this open session, we'll talk about the German job market and German employers, the English-language job market in Germany, and what you really need to know to succeed in Germany.
Who should attend? These coaching sessions are designed for international applicants who want to successfully navigate the German job market - from professionals just starting out in Germany to those with more experience in the German market hoping to make a career change. Recent grads and students are invited to take advantage of the limited number of discounted student tickets.
About the trainer: Amanda Wichert is a cross-cultural trainer, coach, and consultant specializing in cross-cultural careers. She's a founding partner of the HR consulting company WITOS Berlin and works with private clients, universities & educational institutions, and corporate clients in Berlin and across Germany.