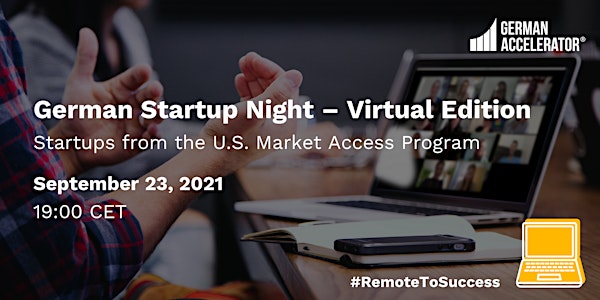 German Startup Night - Virtual Edition - U.S.
German Startup Night - Virtual Edition - U.S.
About this event
We are thrilled to announce the upcoming U.S. German Startup Night - Virtual Edition! German Startup Night features pitches from ten best-in-class German startups that have recently been part of the German Accelerator U.S. Market Access program. We are looking forward to exciting pitches from our U.S. Class 2021-3 and some great networking afterwards. Join us for a fun night of exchanging ideas and celebrating global innovation!
The U.S. Class 2021-3:
air up (Beverage Tech) has created an innovative drinking system that adds taste to water without using any additives. The bottle's interchangeable scent pods add naturally flavored air to water or any other beverage, which is perceived as taste by our brain.
Blacklane (Travel) is a business travel concierge platform that provides a chauffeur portal connecting people to professional chauffeurs via their mobile app, website, and hotline.
Graphmasters (Logistics) is a logistics and traffic management company that uses Artificial Intelligence algorithms to optimize routes and smartly distribute traffic.
MARKT-PILOT (SaaS) provides comprehensive spare parts pricing, market, and competitive intelligence. The first-of-its-kind software helps manufacturers improve customer relationships and increase revenue and profit.
oculavis (AR for Service Repair) is an Augmented Reality company that enables experts and technicians to visually connect with end-users of machinery and equipment anywhere in the world.
Palturai (Enterprise SaaS) uses graph intelligence to develop a map of global business structures revealing millions of relationships between companies and their business partners. This allows their customers to view business partners not as isolated entities but as part of a network.
Snubes (Enterprise SaaS) supports companies of any size to leverage the benefits of outsourcing through an AI-based platform that matches clients with external call centers based on customer needs.
Talentspace (HR Tech) is a video-first platform that enables employers to engage with and recruit talent through any kind of virtual recruiting activity.
Twinner (AutoTech) scans vehicles and creates an identical data record. This "Digital Twinn" allows cars to be inspected, bought, and sold online anytime and anywhere.
Wingcopter (Aircraft) is an award-winning German manufacturer of unmanned (UAS) eVTOL, fixed-wing aircraft dedicated to improving the lives of people worldwide through meaningful commercial and humanitarian applications.
In addition to our startup pitches, we will be happy to introduce you to Erasmus for Young Entrepreneurs (EYE) Global. EYE Global has been successfully enabling cross-border exchange between aspiring and experienced entrepreneurs and is looking for mentors with startup and entrepreneurial experience based in the U.S. to engage with aspiring European entrepreneurs.
We'd love to see you online!
German Accelerator empowers German startups to scale globally.
We take high-potential companies on a fast-paced learning journey to understand, discover, and access the world's leading innovation hubs in the U.S. and Asia. Through highly-customized programs, mentoring from dedicated experts, as well as access to our vast network of business partners and investors, we help startups from all stages and across various industries on their way to international success. Since launching in 2012, German Accelerator has nurtured over 500 startups which have raised more than $4.9 billion in funding so far. German Accelerator is run by German Entrepreneurship GmbH and is proudly financed by the German Federal Ministry for Economic Affairs and Energy (BMWi).
Visit www.germanaccelerator.com for more information.