Dieses Event ist beendet.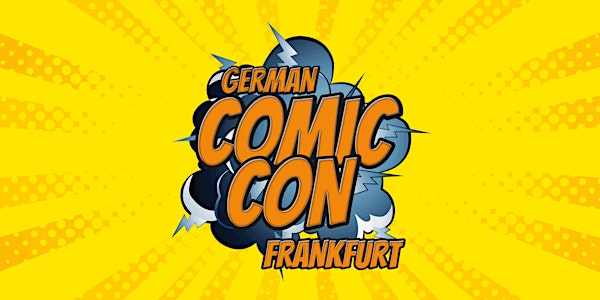 German Comic Con Frankfurt 2018
Zeit und Ort
Veranstaltungsort
Messe Frankfurt - Halle 4 Ludwig-Erhard-Anlage 1 60327 Frankfurt am Main Germany
Karte und Wegbeschreibung
Rückerstattungsrichtlinie
Keine Rückerstattungen
Beschreibung
Hollywood meets Hessen: Welcome to the second GERMAN COMIC CON Frankfurt 2018!
OPENING HOURS
Saturday, 05/05/2018; 10:00 - 18:00 // VIP Early Bird: 9:00 - 18:00
Sunday, 06.05.2018; 10:00 - 17:00 // VIP Early Bird: 9:00 - 17:00

Visitors can expect a packed program on site. No matter if nerds, geeks, hipsters or families - there is something for everyone: action and entertainment with the stars on the big stage, panels, photoshoots and autograph sessions. A big cosplay contest, the latest comics, manga and anime at the publishing houses, national and international draftsmen, the indie draftsman mile, photo points, workshops, games, merchandise as far as the eye can see and much more. A weekend full of entertainment!
The GERMAN COMIC CON ticket gives you access to all public areas of the convention.
INFO & FAQ
Can I bring my child and does my child need a ticket?

Yes, children can be brought. There is no age limit to attend the event. Children aged 0 to 5 inclusive are entitled to free entry accompanied by a legal guardian. Children between the ages of 6 and 12 receive a discounted entry accompanied by a legal guardian. A proof of age of the child is always to accompany and must be shown if necessary.
Where can i buy tickets?

Admission tickets, VIP tickets and photo shoot tickets can be ordered in advance in the ticket shop.
Autograph tickets are only available on site at guests' tables.
The photoshoot and autograph tickets are valid for a photo or an autograph and do not include admission to the GERMAN COMIC CON. For access to the exhibition grounds, a day ticket is also required for the respective day, a weekend ticket or a VIP ticket.
Where can I park?
We recommend to arrive by public transport!
On-site parking and public parking are limited; we recommend to check the prices in advance:
> Messe Frankfurt, Parkdeck Hall 4
> Maritim Hotel
> Marriott Hotel
> MesseTurm
> Skyline Plaza
Since it will be very crowded, plan here appropriate preliminary runs from leaving the highway for the drive to the hall and parking with one.
What about the EARLY BIRD entrance from 9 o'clock?
VIP ticket holders and early bird ticket holders have access to EARLY BIRD from 9am.
All visitors with a normal day ticket or a weekend ticket have access from 10 o'clock.
Do I have to identify myself at the entrance and is there an age limit for the event?
No, you do not have to identify yourself.
There is no age limit for the event. Children and adolescents aged 1 to 16 years are only allowed in the company of a person entitled to custody or a person responsible for education. Persons custody person is, to whom alone or together with another person according to the regulations of the Civil Code the personal care is entitled (§ 1 Abs. 1 Nr. 3 JuSchG). A person responsible for education is any person over the age of 18, as long as he or she performs educational tasks on a permanent or temporary basis as a result of an agreement with the person entitled to custody or as far as caring for a child or a young person within the scope of training or youth welfare (§ 1 para. 1 no. 4 JuSchG).

Are refunds possible?
Purchased tickets are excluded from the return and cancellation. This basically applies to all entrance, VIP and Photoshoot tickets. Should a guest cancel, there is no entitlement to the refund of entrance and VIP tickets. Purchased Photoshoottickets for the corresponding guest will be automatically refunded to the account with which they were paid.

Do I have to bring the printed ticket?
Yes, the tickets have to be brought in printed form.

The ticket must be ready for entry and in a scannable condition.
Attention: The QR code can only be scanned once. After scanning the ticket is canceled.
Is it a problem if the name on the ticket does not match the name of the participant?
Das ist kein Problem. Die Tickets sind nicht personalisiert. Der Name auf dem Ticket muss nicht zwangsläufig mit dem Namen des Teilnehmers übereinstimmen.

Wenn ich als Wochenendticket-Besitzer oder als VIP Ticket-Besitzer ein Bändchen um mein Handgelenk bekomme: Muss ich dies das ganze Wochenende tragen?
Ja, das Bändchen ist das komplette Wochenende zu tragen. Solltest du es am Samstag nach dem Event abnehmen, erhält du am Sonntag KEINEN Zugang auf das Event. Sollten Manipulationsversuche an dem Bändchen vorgenommen werden, ist der Zugang zum Event ebenfalls ausgeschlossen.
Wie kann ich den Veranstalter kontaktieren, wenn ich Fragen habe?
Kontaktieren Sie uns gerne per eMail unter frankfurt@germancomiccon.com.
Mehr Infos auf unserer Website www.germancomiccon.com in den FAQ und unseren AGB.
Jetzt auf Facebook liken und immer auf dem aktuellen Stand sein: www.facebook.com/germancomiccon
IMPRESSUM
Die German Comic Con wird in Lizenz veranstaltet von der:

Comic Con Europe GmbH
Geschäftsführer: Markus Borchert, Jason Joiner
Lauensteinstr. 9
22307 Hamburg, Germany

Telefon: +49 4064604959
Email: frankfurt@germancomiccon.com

Plattform der EU-Kommission zur Online-Streitbeilegung: https://www.ec.europa.eu/consumers/odr
Registergericht: Amtsgericht Hamburg, Germany
Registernummer: HRB 141197
Steuernummer: 43/712/02000
Umsatzsteuer-Identifikationsnummer gemäß § 27a Umsatzsteuergesetz: USt.-IdNr. DE306252758

Verantwortlich nach § 6 Abs.2 MDStV:
Markus Borchert, Lauensteinstr. 9, 22307 Hamburg, Germany

"German Comic Con", eine Marke und ein Titel der Cool Conventions GmbH.