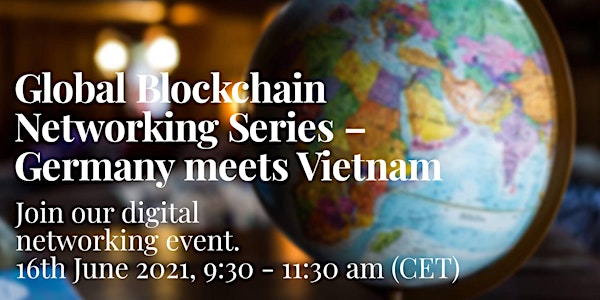 German and Vietnamese Blockchain Networking
Global Blockchain Networking Series – Germany meets Vietnam
About this event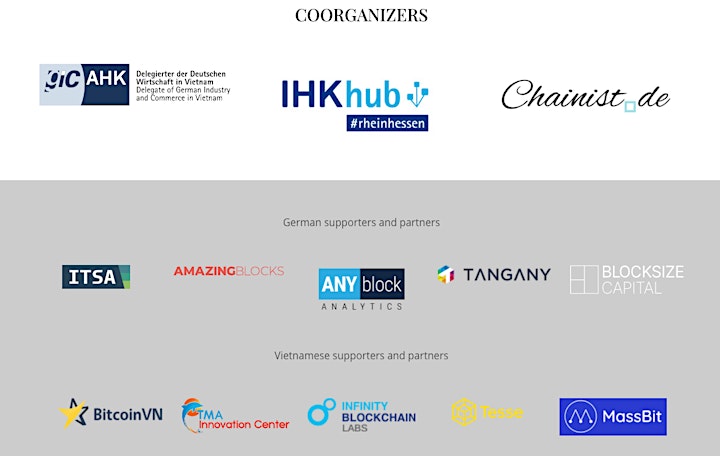 Germany's blockchain industry is gaining momentum especially after releasing and adopting the governmental blockchain strategy in 2019. Whether this is in the well-regulated space of custody, tokenization, supply chain or renewable energy, productive use case adoption by existing companies and a thriving group of startups is happening quickly. The industry is convinced that global cooperation fosters adoption, shapes markets deeper and supports adoption even faster.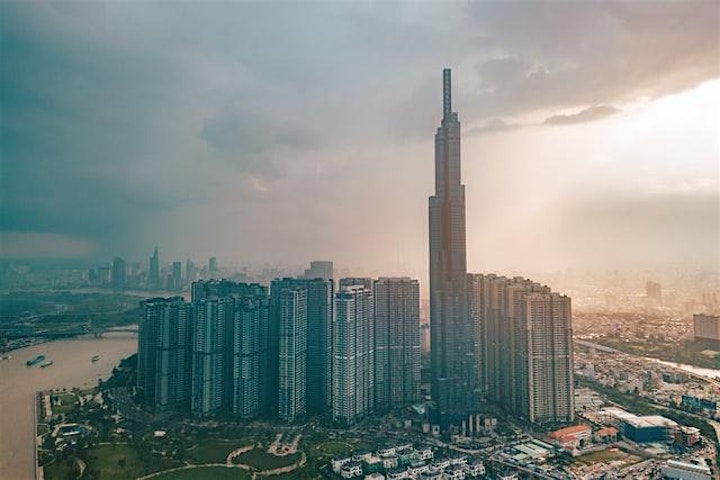 Agenda
1. General Introduction
2. Blockchain Company Introductions
Anyblock Analytics GmbH, Peter Eulberg, CEO, Germany
TMA Innovation, Tam Đỗ, Director of TMA Blockchain Center, Vietnam
Tangany, Julian Richter, Head of Sales and Business Development, Germany
Bitcoin Vietnam, Dominik Weil, Co-Founder, Vietnam
Amazing Blocks AG, Nicolas Weber, Head of Business Development, Germany
Massbit, Minh Đoàn, Co-Founder, Vietnam
Blocksize Capital GmbH, Thomas Langbein, Head of Sales and Business Development, Germany
Infinity Blockchain Labs, Vietnam
International Token Standardization Association (ITSA), Maximilian Bruckner, Executive Director, Germany
Tesse Technology JSC., George Nguyễn, Advisor, Vietnam
3. Business Networking
We'll keep the introductions focused and facilitate discussions, business matching and networking. 
Moderation
Mr. Sang Nguyen grew up in Bavaria, Germany and studied Linguistics. He is fluent in German, Vietnamese and English. After moving to Vietnam he worked in the Travel and Event industry. Since joining AHK Vietnam as Head of Operations, he is in charge of Business Events, Start-up projects and is the contact for the Invest Region Leipzig in Vietnam.
Blockchain in Vietnam
Vietnam is going through a rapid transformation. From an agriculture-driven economy to a technology-driven country. International attention from foreign policymakers and businesses is increasing. Since the inception of the crypto and blockchain industry, companies and startups in Vietnam have build products and services around the technology.
The global blockchain ecosystem has evolved immensely in the last few years. We have seen a shift from cryptocurrency excitement and skyrocketing funding rounds, to the development of scalable blockchain-powered products. With this development, the Vietnam blockchain community has grown strong over the recent years.
We would like to create a bi-national networking platform for blockchain experts to create cross-border synergies and potential partnerships. We would like to invite you to take part in the second Global Blockchain Exchange, where you will have the opportunity to hear from leading German and Vietnam blockchain experts and share your own experiences.
About the Global Blockchain Networking Series
A selected number of German blockchain companies had the idea to connect to blockchain companies around the globe utilizing the existing network of the German Chambers of Commerce (IHK/AHKs).
AHK Taiwan and their blockchain event triggered the engagement. The first event took place on the 6th of May 2021 between Germany and Israel. Currently, the next two events are planned with Vietnam and Taiwan. Additional countries are being discussed, e.g. Rwanda, South Korea and the USA.
For participants
When you attend this event, you agree that we are allowed to use content like records (video and images) for internal usage to promote upcoming events and can be published on the website of the event partners and coorganizers. If you don't agree, please inform the organizers prior to the event.