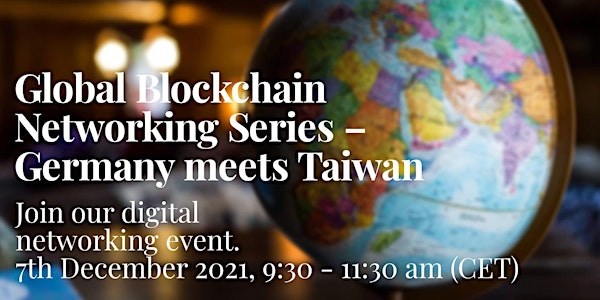 German and Taiwanese Blockchain Networking
Global Blockchain Networking Series – Germany meets Taiwan
About this event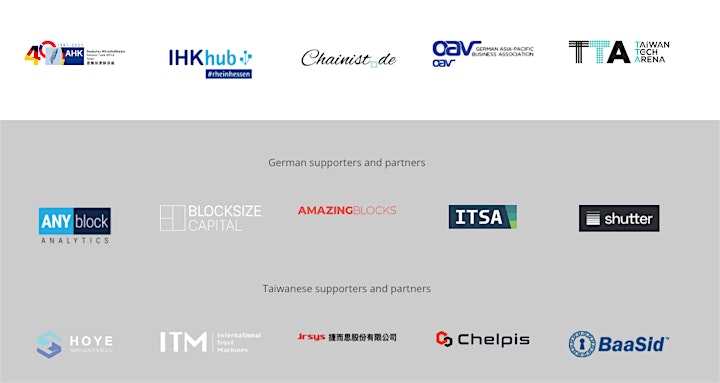 Germany's blockchain industry is gaining momentum especially after releasing and adopting the governmental blockchain strategy in 2019. Whether this is in the well-regulated space of custody, tokenization, supply chain or renewable energy, productive use case adoption by existing companies and a thriving group of startups is happening quickly. The industry is convinced that global cooperation fosters adoption, shapes markets deeper and supports adoption even faster.
Agenda
1. General Introduction
2. Blockchain Company Introductions
Anyblock Analytics GmbH, Sascha Göbel, CTO, Germany
International Trust Maschine (ITM), Cooper Lai, BD Director, Taiwan
Amazing Blocks AG, Nicolas Weber, Head of Business Development, Germany
HOYE Tec, Jason Hsu, CEO, Taiwan
Blocksize Capital GmbH, Thomas Langbein, Head of Sales and Business Development, Germany
Jrsys INTERATIONAL CORP., David Chang, Executive Vice President, Taiwan
International Token Standardization Association (ITSA), Maximilian Bruckner, Executive Director, Germany
Chelpis. Co., Ltd., Denis Sivilay, Product Manager, Taiwan
Shutter Network, Luis Bezzenberger, Product Manager
Baasid international lab Co., Ltd, James Huang, Founder & CEO, Taiwan
3. Business Networking
We'll keep the introductions focused and facilitate discussions, business matching and networking. 
Moderation
Ms. Leonie Yang is the General Manager of DEinternational Taiwan, service unit of the German Trade Office Taipei (AHK Taiwan). She has solid experience in export and market consultation as well as a deep understanding of bilateral cooperation and business culture. She holds a Master's degree in politics and society of East Asia from the University of Tübingen.
Blockchain in Taiwan
Taiwan was the first country in the world to have its Finance Security Commission laid down separate regulations for Security Token Offerings (STOs). In addition, the Taiwanese parliament passed the "Sandbox Act" at the end of 2017 to create a secure legal environment for innovative fintech companies.
This provides an attractive market environment for German companies in the blockchain protocol development, process development, process optimization, construction and management of digital share structures and tokenization sectors. The theming of blockchain is seen as a top priority in administration. For example, blockchain is already being used in initial public pilot projects to track air and water pollution.
Also worth mentioning is the establishment of the Taiwan Blockchain Alliance with the aim of exchanging information on the regulatory framework, promoting technology research and development, attracting talent, and applying the innovative technology in practice.
About the Global Blockchain Networking Series
A selected number of German blockchain companies had the idea to connect to blockchain companies around the globe utilizing the existing network of the German Chambers of Commerce (IHK/AHKs).
AHK Taiwan and their blockchain event triggered the engagement. In 2021 countries like Israel, Vietnam were part of the Global Blockchain Networking Series. Additional countries are being discussed, e.g. Rwanda, South Korea and the USA.
For participants
When you attend this event, you agree that we are allowed to use content like records (video and images) for internal usage to promote upcoming events and can be published on the website of the event partners and coorganizers. If you don't agree, please inform the organizers prior to the event.