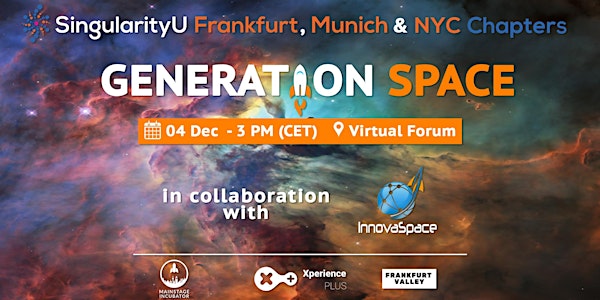 Generation Space
Inspire, educate, and transform the newest generations, entrepreneurs, and professionals about Space challenges and opportunities.
About this event
Singularity University Frankfurt am Main Chapter , Munich Chapter and NewYork City Chapter in collaboration with InnovaSpace organize the on-line event "Generation Space" that aims to examine and discuss space exploration and education.
Singularity University is the foremost global catalyst for leveraging exponential technologies, including artificial intelligence, robotics, digital biology, and nanotechnology, to create a more abundant world.
InnovaSpace is a Think Tank company developing global, inclusive, diverse, and disruptive scientific projects and educational initiatives
This event is designed to inspire, educate, and transform the newest generations, entrepreneurs, and professionals.
With the goal of connecting young people to space, the event promotes Kids2Mars, a project of InnovaSpace which aims to freely provide global open access to space knowledge focused on the human exploration of the Red Planet. The project invites representative kids and young people (6-18 yr) from countries worldwide to ask questions about human exploration of Mars and the planet Mars itself, which are then answered by space experts.
The event will be divided into 5 panels of 1 hour each, covering the areas of Exponential Technology, Space Health, Life-long Space Learning, Moon & Mars Exploration, Space for Human Flourishing delivered by well-known academics, scientists, and professionals coming from renowned international institutions, such as NASA, ESA, SGAC-UN and more.
Each panel will end with a debate, and Q&A session with the virtual audience, moderated by an expert in the area.
The event will offer networking opportunities organized in thematical areas where you can meet and discuss diverse topics with experts and participants.
Among already confirmed speakers there are:
• Dylan Taylor: Chairman & Ceo Of Voyager Space Holding
• Frank Zimmermann: Ceo At Cesah Gmbh
• Ganapathy Krishnan: Founder President At Atnf India
• Ilaria Cinelli: Aerospace Medical Association
• Joan Vernikos: Ex-Nasa Director Of Life Sciences
• Maria Antonietta Perino: President At Explore Mars Europe
• Nancy Conrad: Founding Chairman At Conrad Foundation
• Pascal Finette: Co-Founder @ Be Radical
• Rachel Lyons: Executive Director Of Space For Humanity
• Rochelle Velho: SGAC Co-Lead, Medical Officer Austrian Space Forum
• Ruvimbo Samanga: Space Law & Policy Analyst
• Thais Russomano: Founder, Ceo, Scientific Director At Innovaspace
• Valérie Saintot: Head Of Division, European Central Bank
• Vladimir Pletser: Space Operations Training Director Of Blue Abyss