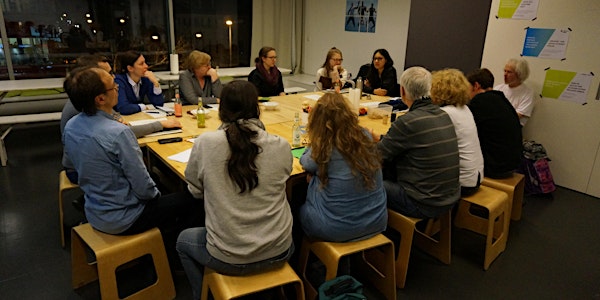 Gemeinawohl-Ökonomie Mainz-Wiesbaden Plenum | Economy for the Common Good
Location
Wiesbaden
Reisinger-Anlage
65183 Wiesbaden
Germany
Sitzung der Regionalgruppe der GWÖ. Alle die das GWÖ-Konzept, die Bilanz und die Bewegung kennen lernen wollen, sind herzlich willkommen
About this event
Du hast bereits von der Gemeinwohl-Ökonomie als alternativem Wirtschaftsmodell gehört oder interessieren sich dafür, mehr darüber zu erfahren, was wir für diese internationale Initiative in Region Wiesbaden & Mainz tun?
Dann komm zu unserer nächsten Plenumssitzung, die offen ist für Mitglieder und Nicht-Mitglieder, Aktive und weniger Aktive bzw. diejenigen, die sich vorstellen können, unsere Bewegung mit zu unterstützen.
Anmeldung auf Eventbrite erforderlich
Organisiert von: Mainz-Wiesbaden Regional Gruppe des Gemeinwohl-Ökonomie e.V.
Vielen Dank an unsere Unterstützer
Auf diesen Kanälen kannst du uns online anschließen.:
Datenschutz
Personenbezogene Daten werden vom Veranstalter ausschließlich zu Zwecken der Veranstaltungsorganisation und -durchführung verwendet.
Die TeilnehmerInnen der Veranstaltung erklären sich damit einverstanden, dass ihre Daten künftig für Informationen durch die Regional Gruppe Mainz-Wiesbaden des Gemeinwohl-Ökonomie e.V. (GWÖ) über ihre Aktivitäten, verwendet werden dürfen. Die Daten werden ausschließlich zu diesem Zweck genutzt. Eine Weitergabe an Dritte erfolgt nicht. Die Zustimmung zu dieser Nutzung geschieht freiwillig. Im Falle des Widerspruchs gegen diese Nutzung hat dies keine Auswirkungen auf die Veranstaltungsteilnahme. Die hiermit erteilte Einwilligung für die Nutzung der Daten für die beschriebenen Informationszwecke kann jederzeit schriftlich widerrufen werden. Bitte wenden Sie sich diesbezüglich über unsere Website oder Social Media Kanäle.
Öffentlichkeitsarbeit
Mit der Anmeldung wird dem Veranstalter die Erlaubnis erteilt, während die Veranstaltung Foto- und Filmaufnahmen zu machen und diese Aufnahmen im Zusammenhang mit der Veranstaltung für die Öffentlichkeitsarbeit und die Dokumentation, analog und digital, zu verwenden.
[Text in English ]
You have already heard about the Economy for the Common Good as an alternative economic model or are interested to learn more about what we are doing for this international movement in the region of Wiesbaden & Mainz?
Then come to our next plenary session, which is open to members and non-members, active and less active or those who can imagine to support (individuals & organisations) our movement.
Registration on Eventbrite required
- Donations are Welcome
Data Protection
Personal data will be used by the organizer exclusively for the purposes of event organization and execution.
The participants of the event agree that their data may in future be used for communication purposes by the Local Chapter: Mainz-Wiesbaden of the Association for Economy of the Common Good (Gemeinwohl-Ökonomie e.V. (GWÖ)) and to keep you informed about their activities. The data will be used exclusively for this purpose. The data will not be passed on to third parties. Consent to this use is voluntary. If you object to this use, this will have no effect on your participation in the event. The consent hereby given for the use of the data for the information purposes described can be revoked in writing at any time. Please contact us in this regard through our website or social media channels.
Public Relations
Upon registration, the organizer is granted permission to take photographs and films during the event and to use these photographs in connection with the event for public relations and documentation, both analogue and digital.
Organised by: Mainz-Wiesbaden Local Chapter of the Economy for Common Good Association.
Many thanks to our supporters
Join us online on these channels:
Twitter & Facebook Handles: @gwoeMZWI