Dieses Event ist beendet.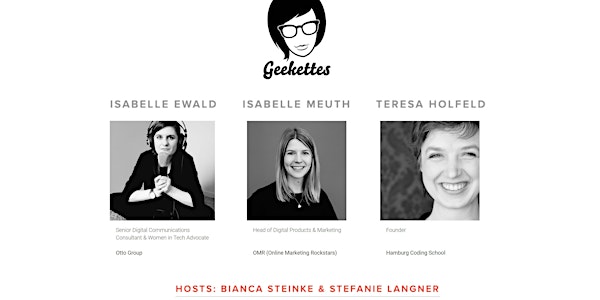 Geekettes Hamburg // Get Back Together
Geekettes Get-Back-Together
Zu diesem Event
Hi everybody!
It's time to reunited the amazing Geekettes Hamburg Community. We are looking forward to meeting you all next wednesday (Nov 25th, 20) at 18:30 (Zoom-Link provided shortly).
* * * * * *
We will start with
*Welcome back, Geekettes - with Bianca Steinke & Stefanie Langner
followed by three wonderful speakers. Meet
*Isabelle Ewald (Senior Digital Communications Consultant & Women in Tech Advocate @ Otto Group)
*Isabelle Meuth ( Head of Digital Products & Marketing @ OMR)
*Teresa Holfeld (Founder, Hamburg Coding School)
who will share their stories with us.
Afterwards we have planned some fun networking.
Can't wait to see you!