Description
GDG Karlsruhe DevFest 2017
Saturday, December 09th
The Google Developer Group (GDG) Karlsruhe invites everyone to the GDG DevFest Karlsruhe 2017. This year the DevFest will take place in the Duale Hochschule Baden Württemberg Karlsruhe.
The one day conference will offer a lot of sessions (in English and German) around modern web development, Android development, and much more.
T-Shirts
There will be conference shirts which can be bought with the Conference + T-Shirt tickets. T-Shirts won't be sold at the conference this year! The sale of these tickets will end earlier, since they need to be printed. You will be asked for your shirt size during the checkout process. The shirt design will include our 2017 logo and look just like: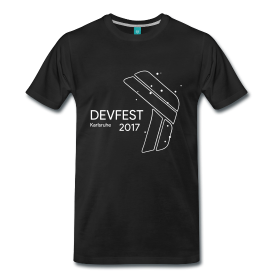 Final product may vary, due to printing or slightly modified colors.
Call for Papers
If you took part in our Call for Papers don't reserve yourself a ticket yet. If we won't accept your talk, you will get the chance to acquire a ticket to the conference for the same conditions you would now, once we finished the Call for Papers end of August.
Contact
If you need larger buckets of tickets, are not able to pay via Paypal or have any question regarding the event, please contact us at devfestkarlsruhe@gmail.com. We are happy to help you.