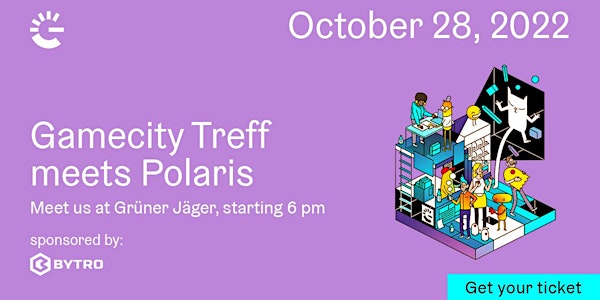 Gamecity Treff meets Polaris
Let's meet up for the next Gamecity Treff after the first day of the new Polaris Convention - casual networking for Hamburg's games industry
When and where
Location
Grüner Jäger Neuer Pferdemarkt 36 20359 Hamburg Germany
Refund Policy
Contact the organizer to request a refund.
About this event
Gamecity Hamburg invites you to the next Gamecity Treff on Friday, October 28, from 6:00 pm to 11:00 pm at the Grüner Jäger music club in Hamburg St. Pauli.
We want to celebrate the Hamburg games industry and welcome the new Polaris Convention with our traditional Gamecity Treff and you, of course!
The event will start at the end of the first day of the new games convention in Hamburg, the Polaris Convention, which brings together communities surrounding eSports, gaming, and Japanese pop culture from October 28 - 30.
At the Gamecity Treff, you can meet up with like-minded people from the Hamburg games industry, make new contacts and unwind after the first exciting day of Polaris. You are welcome to network, get to know new people from the industry, have a few snacks and drinks, and enjoy the evening.
Tickets for the Gamecity Treff are available for 5 euros, which includes drinks and snacks.
This edition of the Gamecity Treff is sponsored by Bytro - a big thank you for supporting the event!
Schedule:
6:00 pm: Doors open
from 6:00 pm: Networking with drinks & snacks
7:00 pm: Welcome words by Gamecity Hamburg
11:00 pm: End of event
TL;DR
What: Gamecity Treff meets Polaris Convention
When: October 28, 6:00 pm
Where: Grüner Jäger, Neuer Pferdemarkt 36, 20359 Hamburg
Tickets: 5 euros
About the Gamecity Treff:
The Gamecity Treff started in 2003 (!) as a networking event to bring together Hamburg's games industry and is still going strong with up to 200 participants per event. These informal events aim to promote the networking and exchange of information within the industry. The Gamecity Treff is organized by the location initiative Gamecity Hamburg's, whose aim is to improve the general conditions for companies and founders of the games value chain in the city, to support them in their further development and to anchor Hamburg in the public perception as one of the leading games hubs in Europe. At the same time, we promote the exchange of knowledge within the sector and with other industries.
More info: https://www.gamecity-hamburg.de/
About the Polaris Convention:
The new community convention in northern Germany, Polaris, invites you together with Nintendo, Papaplatte, Canon and many more into a playable amusement park. Experience a program around gaming, eSports, Asian pop culture, art and food on five different stages, meet your favorite creators and play through the fair with the companion app.
With a unique mix of topics, Polaris brings diverse communities to the Hamburg exhibition halls from October 28 - 30. Over 250 great exhibitors, the biggest German influencers, as well as international e-sports teams will be cavorting on 20,000 m2. That means stage shows, tournaments, workshops, food, cosplay and much more over three days.
More info: https://polaris-con.de/
About Bytro:
The team at Bytro is passionate about developing and publishing unique strategy games. Based in Hamburg's city center, Bytro is an innovative and driven team of over 70 people drawn from around the world. Currently, they have over 20 different nationalities on their team – a truly international atmosphere.
Bytro's games are enjoyed by more than 15 million people – which is basically six times the city of Hamburg! – in 150 countries and 13 languages.
More info: https://bytro.com/