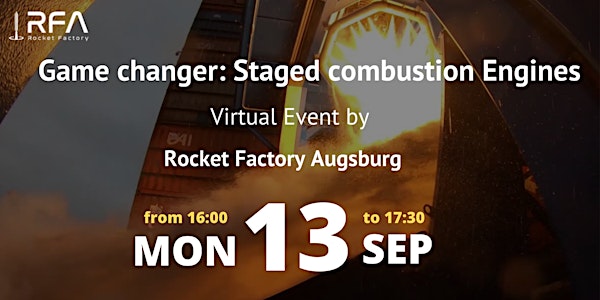 Game Changer for European Space Transportation: Staged Combustion Engines
Staged Combustion Engines: A Game Changer in Rocket Science
About this event
Rocket Factory Augsburg hosts this event as a launch service provider for small satellites into Low Earth Orbits at unrivalled prices starting end of 2022.
Now that we have been able to demonstrate the full functionality of our staged combustion engine with a successful 8-second test, we would like to take this as an opportunity to put our successes, our technology and new space in general into a broader context: The commercialization of Space Transportation in Europe.
In April of this year, the EU decided its space program. In addition to the economic benefits of data and services, the program focuses on two things in particular: the EU's security and autonomy in space and its important role as a leading player in the space economy. The panel discussion will share perspectives with selected participants on where European space is heading and what role inexpensive and efficient commercial launchers can play in this.
Join us in this online event with insights from our management, a panel discussion with experts and a live Q&A!
Panelists:
Thierry Breton- invited
Mr. Breton is the European Commission's Commissioner for the Internal Market. He coordinates an EU approach to artificial intelligence and develops an EU data strategy. He formerly served as France's Minister of Economy, Finance, and Industry. Former CEO of Atos, a multibillion-dollar IT services company, as well as France Telecom and Thomson Multimedia.
Thomas Jarzombek - confirmed
Commissioner for Digital Industry and Start-ups at the Ministry of Economic Affairs. He is also the German Aerospace Policy Coordinator for the Federal Government. Mr. Jarzombek is in charge of coordinating and bringing together the Federal Government's efforts to improve Germany's aerospace sector's international competitiveness in research and development.
Jeanne Medvedeva - confirmed
Jeanne is the Vice President of Launch Services at Exolaunch GmbH, a leading Germany-based provider of launch, in-space logistics, deployment and integration services for small satellites. Jeanne has worked with multiple launch vehicles and rideshare missions to arrange successful launches of over 230 small satellites (as of today) for the New Space actors.
Frank Thelen - confirmed
Mr. Thelen is a serial entrepreneur, tech investor, and TV personality from Germany. As founder, he concentrates on early-stage investments like Lilium Aviation, Endurosat, Smartlane, Roboco, Xentral, among others. He's also the author of two best-selling publications, "Startup-DNA" and "10xDNA.
Rüdeger Albat - confirmed
Mr. Albat is ESA's head of Ariane 5 and of Preparation of Future Space Transporation. He is an aerospace engineer anchored in space transportation since the early days of Ariane. He has actively participated in more than 50 Ariane launches, from Ariane 1 to Ariane 5, in many different operational roles. Mr. Albat has witnessed the ramp-up of the European space transportation sector, from early commercial debuts to the wide fields of the current emerging opportunities for new space eco-systems.
Link to the event:
https://www.rfa.space/stage-combustion-event/