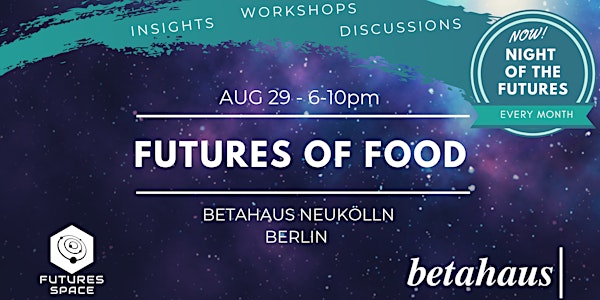 Futures of FOOD by Futures Space & betahaus
Futures of Food - an exploration of multiple futures of how we will produce, ear, and recycle.
When and where
Location
betahaus | Berlin Neukölln - Coworking & Event Spaces Harzer Straße 39 12059 Berlin Germany
About this event
THE NIGHT OF THE FUTURES
Futures Space presents an evening workshop on Futures of Food - an exploration of multiple futures of how and what we will eat. In this workshop, we will explore food systems; we will discuss food security, production, food service, and innovations, what this means for our health & wellness and much more.
With the changes in the environment such as extreme weather, resource depletion, and the rise in population, where will we source our produce from? Are we jumping from global to local? What alternatives to animal products are arising? What role is technology playing in food innovation? An emphasis on health & wellness and the so-called superfoods are changing the way we think about nutrition. What does personalized nutrition actually mean?
We will also tap into human behaviour and consumer habits, as well as the way in which organizations and individuals are managing food waste. And this is only the beginning! Join us and explore the future challenges in our workspace with Futurists and Forward Thinkers and ask the questions no one has an answer to, yet.
About The Night of the Futures
This event is part of a monthly event series called The Night of the Futures. Every month, for one night, we meet to discuss a different future topic. The workshop works as a kick-off for an exploration phase in the prosecuting weeks, where we want to invite you to participate, define and discuss the discovered challenges for each topic in detail with the goal to create a cross-industry innovation project that works on pushing towards the desired solution through collaboration.
AGENDA
18:00 - Welcome
18:15 - Impulse Talks
19:00 - Refreshment break
19:15 - Panel Discussion
20:00 - Relocation Break
20:15 - Workshop in Small Groups
21:15 - Online Tool Introduction and Next Steps
21:30 - Wrap Up and Networking