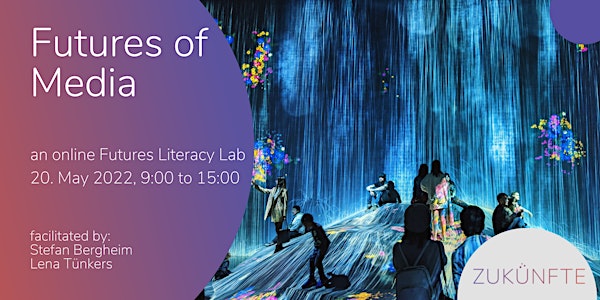 Futures Literacy Laboratory "Futures of Media"
Experiment in an online Futures Literacy Laboratory with different futures of media.
Refund Policy
Refunds up to 7 days before event
About this event
The media play a crucial role in our societies. As a tool to communicate data, information, knowledge and even wisdom, they shape what we think and how we act. What role are media playing in the present and what could they be like in the future? What new practices and structures of media might emerge? What can be done differently in the present?
Participants in this online workshop address these questions using the method of a Futures Literacy Laboratory. First, they delve into probable, desirable, and alternative futures of media in the year 2040 and the assumptions behind them. Powerful questions and many new options for action in the present then emerge from these new perspectives.
How it works:
The online laboratory will take place on Friday, May 20th 2022 from 9:00 am to 3:00 pm, including a one- hour lunch break and two small breaks. We will go through all four phases of a Futures Literacy Laboratory, alternating between group work and the plenary. Zoom and Miro will be used. Registration is possible via Eventbrite with a participation fee of 100 euros. Please contact us for other registration options if needed.
What to expect:
Experiment with different futures and strengthen your imagination.
Discover together new, relevant content on the future of media.
Understand the importance of anticipatory systems, assumptions and models about the future.
Strengthen your futures literacy, the capability to use the future with different methods for different purposes.
Who it is for:
Leaders from different sectors related to media who look for new impulses for their work.
People who want to get to know the method of Futures Literacy Laboratory and use it in their own contexts.
Those who want to strengthen their general competency in dealing with the complexity, uncertainty and openness of the future.
Anyone wanting to constructively and productively combine the knowledge and experience of many actors in processes of collective intelligence and thus enable change.
Your facilitators
Dr. Stefan Bergheim strengthens futures literacy in politics, business, academia, and civil society with events and processes on topics ranging from innovation via mobility and democracy to quality of life. He was an advisor to the German government's national wellbeing strategy and led the processes "Positive Futures - Forum for Frankfurt" and "Quality of life in the digital age". As a member of the UNESCO Futures Literacy Network, he designed and facilitated numerous laboratories, contributed to the book "Transforming the Future", and co-curated the 2019 FL-Forum as well as the 2020 FL-Summit. He is the author of the book "Futures – Open to Variety".
Lena Tünkers is an entrepreneur, process designer and facilitator. She has designed and executed a variety of innovation processes in the start-up scenes of Denmark, Kenya and Germany and moderated several future laboratories on the topics of education, collaboration, and culture. From her work with the UN, Spotify, HelloFresh and Hugo Boss, among others, she brings experiences in business model design, strategy as well as innovation development. She is a board member of Founders of Tomorrow and hosts the House of Beautiful Business in Copenhagen.
Image: note thanun at unsplash