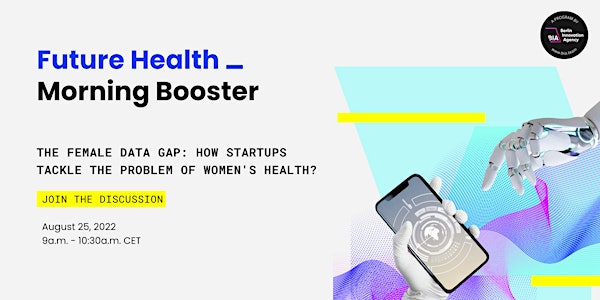 Future Health Morning Booster
Discover how innovation brings fundamental breakthroughs in women's health.
When and where
Location
Alexander von Humboldt Institut für Internet und Gesellschaft Französische Straße 9 10117 Berlin Germany
About this event
In our digital world, data is everything. Many recent key innovations and AI applications rely on extensive data sets. But, despite the wealth of data, inequalities remain - even more in the health sector. Until a few years ago, ''research was mainly conducted on male subjects with the results extended to women, assuming that the biological diversity had no significant repercussions on diseases.'' (Giovannella Baggio, University of Padua) But as more recent research shows, women are subjected to be hit by other health symptoms, such as recurrent hormonal issues as well as different chronic diseases. And research has only started tackling the lack of data recently.
Berlin Innovation Agency & DUCAH, an initiative by the Foundation for Internet and Society invite you to join our new episode of the Future Health Morning Booster on August 25th from 9:00-10:30 AM to learn how startups tackle the problem of women's female data gap and to discuss further opportunities.
As main impulses:
- The Blood leads the next generation of female body awareness and enlightenment through the smart period product that fosters knowledge, reduces waste, gains health data and involves yourself to your body.
- Buddy App brings physical activity intervention as adjuvant therapy for depression into everyday practice.
- Brea App aims to rethink and help shape modern breast cancer care. We support breast cancer patients and their relatives before, during and after therapy.
Meet stakeholders from femtech startups, pharmaceutical companies, VCs, public entities and government representatives to discuss the future of female health and further opportunities.
*This is a live event, please register only if you are located or able to attend in Berlin.*
*This event is a 3G event: A proof of vaccination or a negative result of rapid-test would be asked at the entrance door. *