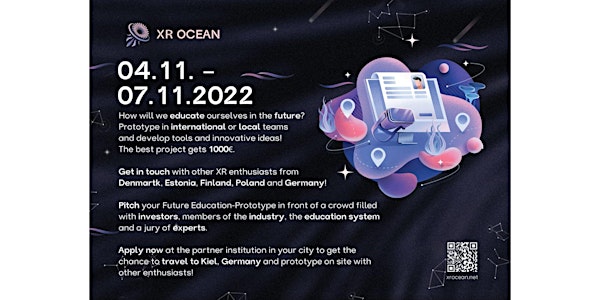 Future Education Hackathon
Get the chance to prototype in international teams and win 1000€ for your idea! Prototype with enthusiasts from the Baltic Area!
About this event
In collaboration with Aarhus, Gdynia, Tallinn and Vaasa we are organizing the XR-Hackathon from  04.-07. November.
You will get the opportunity to work XR-prototypes in your or international teams to the topic of Future Education and pitch your prototypes in front of an international jury and an international audience from the Baltic area.
During the Hackathon different mentors will help you by answering your questions and solving your struggles – therefore you do not need to have any XR experience!
How will we educate ourselves and others in the future? Which methods and options will we use, to move in a more and more digitalised surrounding? We need to find tools and ways, to move safely in the digital space.
How we learn most efficient? How inclusive is our educational system? How does education work fordifferent age groups? How can we manage that education works intuitively and effectively in the same time? Those questions need to be solved as soon as possible. This with the approach to put the needs of human beings in the center of attention. 
Find more information, including the time schedule at
https://xrocean.net/en/hackathon-en/