From Homelessness to Becoming One of the Most Visible LGBT+ Activists
The series of RAHM Community's role-model events invites experts of different background to share their stories, experiences & inspire us!
Zu diesem Event
From Homelessness to Becoming One of the Most Visible LGBT+ Activists - by Amazin LeThi
Amazin shares her personal journey of homelessness to becoming one of the most visible and influential LGBTQ activists in the world. She will share how one can find strength and resilience and inspire others to rise up through adversity.
Born in Saigon where she was left in an orphanage by her mother, Amazin is a transracial adoptee growing up in an all white background, she was bullied constantly as a young child. Because of this she went into bodybuilding at the age of 6 going onto become a competitive bodybuilder in her teens then qualifying as a strength and conditioning coach.
Her story was included in the 'It Gets Better' campaign and the first White House Initiative on Asian Americans and Pacific Islanders Asian anti-bullying campaign 'Act to Change'.
About Amazin LeThi
AmaAmazin LeThi is a global Vietnamese LGBTQ sports and human rights advocate. Her achievements include, a former competitive bodybuilder, entertainment executive and the first Vietnamese internationally published fitness author.
GLAAD and NQAPIA have recognized Amazin for her contribution in accelerating LGBTQ sports equality and she has been listed in many mainstream articles, these include, Australian Pride Power List, Out 100 List, Human Rights Campaign - Asian Pacific Islander Heritage Month Honours list, 2020 Go Magazine 100 Women We Love List and 2020 Global Changemakers.
In 2020, Amazin became the first Asian LGBTQ Athlete to be honoured at the Brooklyn Nets 4th Annual Pride Night with the 'Game Ball Delivery'.
During Pride Month 2020, Amazin partnered with (The Advocate) to host the first Pride Month Asian LGBTQ voices Instagram live series; her guests included out Asian Hollywood actors: B.D Wong, Leo Sheng, Leonardo Nam, Rain Valdez and Jake Choi. Amazin was also part of the first 24-hour Global Pride 2020.
In 2021, Amazin will launch the Amazin LêThi Foundation with a flagship program to support and address LGBTQ youth experiencing homelessness through leadership and development using sports as the platform for change.
Amazin is a Stonewall UK and Athlete Ally sports champion ambassador and a global ambassador for Vietnam Relief Services.
For further information: www.amazinlethi.com
What are our Role-Model Events?
The series of RAHM Community's role-model events invites experts of different countries, industries and organisations to share their stories and experiences, successes and failures, learnings and inspirations!
Taking place once a month, these short-format events are made with a sole purpose to inspire, motivate and encourage anyone who decides to join. Addressing essential topics of authentic leadership, defining diversity, growth though adversity, discussing journey of realising one's ideas, and many more!
About RAHM | The Global LGBT+ Leadership Community
The RAHM Community is an exclusive global LGBT+ Leadership Community created by the UHLALA Group. Since 2017, our Community has been revolving around connecting, inspiring and supporting the future and present generation of LGBT+ leaders striving for personal growth and professional achievements. From talented students to freelancers, founders and top executives – RAHM connects all.
We partner with proud companies around the world to host LGBT+ leadership contest and Impact Day. Our worldwide RAHM Ambassador programme allows community members to meet locally throughout the year.
Learn more about us: www.rahm.ceo
➡️ Follow us on Instagram & Facebook or event updates.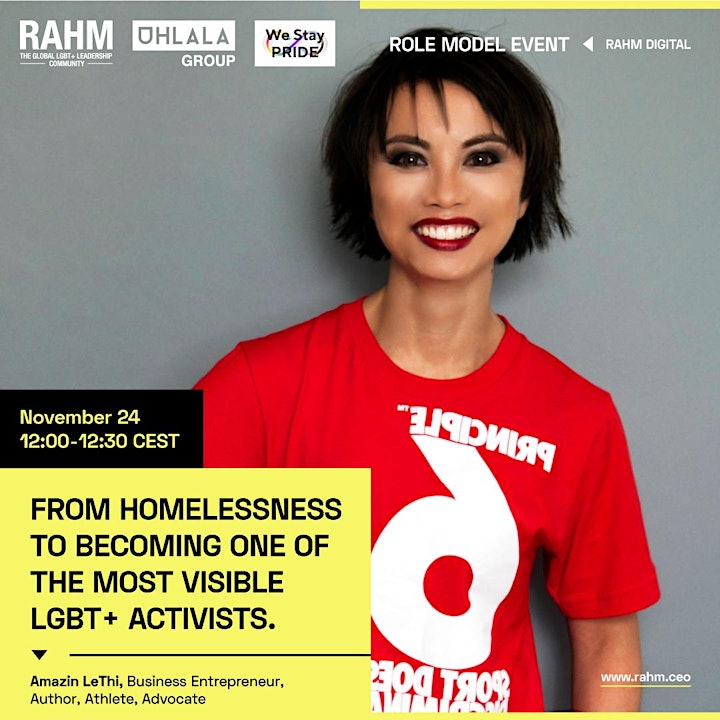 Datum und Uhrzeit
Veranstaltungsort