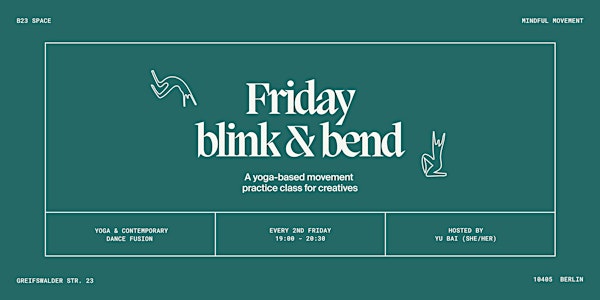 Friday Blink & Bend | Yoga, Dance & Breath
A mindful movement sequence for creative souls.
When and where
Location
b23 Greifswalder Straße 23 10405 Berlin Germany
Refund Policy
Contact the organizer to request a refund.
About this event
Friday Blink & Bend combines guided mindful movements with Yogi breathing techniques, contemporary dance/improvisation tasks, all accompanied by electronic music. The Yoga-based, 90-minute avant-garde movement class specifically is designed for people who are active in the creative field. Together we'll explore new and experimental ideas and methods to awaken the creative minds and energize the body, so we feel aligned and empowered to tap into a state of flow and create from a place of inspiration.
Come as you are. Every body is welcome and we're taking utmost care that you feel safe & comfortable. No prior Yoga or dance experience required. Make sure to bring your Yoga mat, your water bottle and some comfy clothes.
About the facilitator
Yu Bai (she/her) works as a movement researcher, teacher and performer. Her works manifest as reconfigurations of body, space, and technology, informed by her background in visual art and contemporary dance. Otherness or the characteristics of the Other (anyone whose identity has been pushed to the margins) is a recurring theme of her work. By placing importance on the physical experience and the process of the creation, her performances are often site-specific, guided by principles of the participatory and queer approach to challenge the cis, hetero, white, classist norms.
Besides researching movements and performing, she teaches mindful movement classes at her home studio and different locations in Berlin. Her teaching language is English, and her style is playful, heart-led and non-dogmatic.
As a certified yoga teacher, her precise and careful approach comes from a deep understanding of the human body and its movements. With a background in dance, she has been acquainted with human movement from an early age. In adulthood, she went on to pursue mindfulness and creativity through yoga: traveling to work with renowned Yogis in India. It was here that she honed her craft in mentorship and was able to turn it into a unique method to help others. In a pursuit to share knowledge, she teaches singers, musicians, models, professional athletes, and young dancers in an open, empowering and non-judgmental environment.