Sales Have Ended
Registrations are closed
Thanks for your Y357: Design Thinking for Urban Mobility Workshop registration! See you on Monday, Nov 2nd at 09:00 am CEST for the first day of our workshop! Join us via Zoom for the workshop: https://unternehmertum-de.zoom.us/j/95743420654 In the meantime check our these additional educational resources on the Y357 Methodology: This short clip from Prof. Tarazi about his novel approach to design: https://youtu.be/NON7NoCwRek You can view the full podcast with Prof Tarazi and Alan Armstrong below https://youtu.be/qG1mB_eYHRg Kind regards, Your UMI Team
Sales Have Ended
Registrations are closed
Thanks for your Y357: Design Thinking for Urban Mobility Workshop registration! See you on Monday, Nov 2nd at 09:00 am CEST for the first day of our workshop! Join us via Zoom for the workshop: https://unternehmertum-de.zoom.us/j/95743420654 In the meantime check our these additional educational resources on the Y357 Methodology: This short clip from Prof. Tarazi about his novel approach to design: https://youtu.be/NON7NoCwRek You can view the full podcast with Prof Tarazi and Alan Armstrong below https://youtu.be/qG1mB_eYHRg Kind regards, Your UMI Team
2 DAYS | ONLINE | INTERNATIONAL DESIGN EXPERT | NOVEL MOBILITY SOLUTIONS
About this Event
Are you looking for a pioneering methodology to solve the world's complex problems? Join us for a radical change in how we approach mobility
Info in a nutshell:
Learn to apply the first 4 steps in a new Problem Solving methodology, Y357, from the creator and design expert Ezri Tarazi himself
Develop new solutions for mobility challenges presented by our city partners
Experience an immersive user-centric approach to solving problems
Stoke the fire of your entrepreneurial spirit with feedback from Ezri Tarazi & our team of experts
Who can apply?
Teams or individuals
Professionals working in mobility, staff from municipalities, and students studying topics related to mobility
Anyone who is an enthusiast and interested in mobility challenges
Timeline:
Over the course of the two-day workshop participants will form teams while learning and applying the first four steps of the Y357 integrated methodology with the most pressing Urban Mobility challenges from our city partners.
This workshop consists of 2 sessions covering the first four of seven steps in the Y357 methodology: PLOW, SEED, SPROUT, and BUD
During this period participants will be guided through the 7-step process of Y357 from Plough to Harvest creating a scalable business to tackle mobility challenges.
Session 1 - Monday, Nov 2nd (09:00 - 17:00 CEST)
Y357 Intro | Step 1: PLOW | Step 2: SEED
Session 2 - Tuesday, Nov 3rd (09:00 - 18:00 CEST)
Step 3: SPROUT | Step 4: BUD | Team Presentations | Networking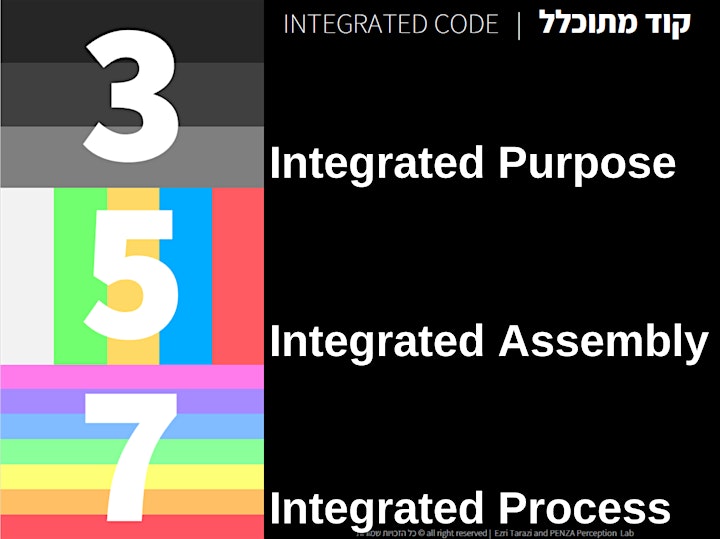 What you can expect?
In this workshop, you will get the special opportunity to learn and apply a radical new problem-solving approach by creator and design expert Prof. Ezri Tarazi from Technion - Israel Institute of Technology. In his Y357 approach, he combines Design Thinking, Agile and Lean Startup in an integrated, powerful toolkit.
Design Thinking is a simple framework and mindset for creative problem solving and entrepreneurial thinking. Agile is an iterative and incremental approach to deliver solutions to complex problems. Lean Startup is an efficient way of starting a business or developing a product.
The Y357 code, developed by Prof. Tarazi & the PENZA Perception Lab, aims to integrate and supply with the cutting edge perceptions, tools, processes, methodologies, and processes to get into innovation in the area of Urban Mobility with less risk, and with more insights into the runes of the future.
We will enable municipalities, professionals & startups from all over Europe to tackle mobility challenges by providing clarity of purpose (Y3 - Integrated Purpose), a set of core lenses through which to view their customers (Y5 - Integrated Assembly) & a 7-step* process for creating a scalable business (Y7 - Integrated Process).
Shape the future and be part of a design thinking revolution!
*The first four steps of Y7 will be covered in this workshop
What is the Y357 Code?
Y3 - Integrated Purpose
Join a meaningful purpose. Develop a more global perception of the mobility problem being faced by people by integrating the positive, negative, and neutral aspect s of the challenge at hand.
Y5 - Integrated Assembly
Develop your own capability. Use the powerful tools and models of the 5 Intelligences to develop your own natural skills and a deep understanding of your customer.
Y7 - Integrated Process
Develop a valuable project. Journey through these seven designated phases to develop a project you feel passionate to promote, which has a clear value for our future.
******
The following four steps of Y7 will be covered in this workshop:
Phase 1 - PLOW
Define the need and the elements that the project needs to answer
Phase 2 - SEED
Deep research of the users or the target audience of the project, the existing market technologies, materials, and more
Phase 3 - SPROUT
Ideation involving the 5 lenses from Y5 - Integrated Assembly
Phase 4 - BUD
Build a conceptual demo or visualization of the project
******
The last three steps of Y7 will not be covered in the workshop but we will have an additional workshop covering the entire process in depth in Dec 14 - 16 & 18 (event will be announced soon)
Phase 5 - FLOWER
Build a detailed design and prototype
Phase 6 - FRUIT
Develop a market entry strategy & employ the theory of change
Phase 7 - HARVEST
Launch of your Solution
What is UMI?
Urban Mobility is an explosive topic. Municipalities, Professionals & Startups tackle this topic with innovation and high-tech skilled approaches. Within this problem-solution fit process the UMI Program (Urban Mobility Integration) was founded. We consist of 3 leading institutions in startup development, design and urban mobility and two innovative cities: UnternehmerTUM,,Technion, Zone Cluster, The City of Lublin and The City of Munich. Together we are creating a radical change in howmthe world approaches the challenges of urban mobility.
UMI is a project of EIT Urban Mobility, an international consortium dedicated to accelerating solutions that improve our collective use of urban spaces, while ensuring accessible, convenient, safe, efficient, sustainable and affordable multimodal mobility.
------------------------------------------------------
*Please be aware that the whole event will be held in English.
For more information about UMI please click here!
Learn more about the European Institute of Innovation and Technology here.
Learn more about EIT Urban Mobility here.