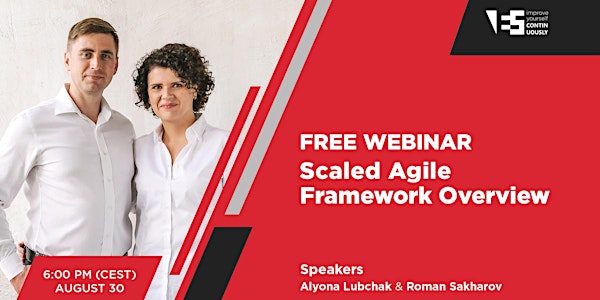 Free webinar SAFe "Scaled Agile Framework Overview"
Do you want to know more about SAFe and increase your career opportunities? Join our free webinar!
About this event
SAFe is the world's well known framework for scaling. However it may be hard to understand it via its website. It may look overloaded and complicated.
During it we will tell in details:
what is SAFe
what 4 configuration SAFe has
what is the difference between SAFe and Scrum
what additional roles, ceremonies and artifacts has SAFe comparing to Scrum
We invite you to join our free webinar to get the overview of Scaled Agile Framework.
About the speakers:
Alyona Lubchak
CEO @ E5
SPC, PMP, ICP, ICP-ADM, CSM certification
CEO and co-founder of Agile consulting agency in Ukraine
Guided successful Scaled Agile transformations in Software Product Companies
Helped dozens of companies with their Agile journey
Conducted hundreds of training events and taught thousands of specialists
Guided non-software companies with their Agile implementations
Successfully delivered dozens of software products to the market
Drives SAFe community in Ukraine
Roman Sakharov
Co-founder, trainer and consultant @ E5
Director of Business Analysis & Delivery manager @ EPAM Ukraine
SA, POPM, SSM, AIPMM, CSM certification
Certified Business Analysis and Product Management Professional with 14+ years of experience
Global Business Analysis and Product Management Practice Co-Head @EPAM
Business Analysis and Product department head (400+ FTE)
Delivery Manager, Agilist, Facilitator and Scrum Master
Multiple conferences speaker