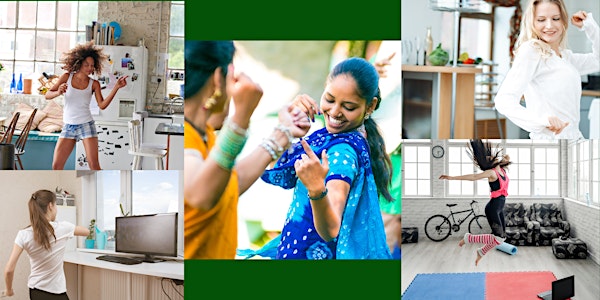 FREE TRIAL CLASSES - Bollywood Dance Workout for Adult Women - Online Live
BollyAgile – The dance way to exercise the Adult Brain & Body, in a fun Bollywood Style!
About this event
Not a gym person?
Not into intense, hard core workouts? (we are talking weights, equipments, HIIT, crossfit...)
Want to exercise to feel fit, but in a fun way, maybe with music?
Not motivated to watch YouTube workout videos alone at home or too bored without company?
If the answer was a YES to any of the above, then
💚 Try BollyAgile! What is it?
A dance- based medium intensity group fitness class for Adult Womxn, to groovy Bollywood music with the SOLE purpose of having FUN!!
💜 You will learn simple dance routines to help you
1. Improve Balance & Coordination
2. Improve rhythm sense
3. Improve Flexibility
💜 How you will FEEL after a class?
1. Destressed
2. Boost in your Energy & Mood
3. Relaxed
Attend a LIVE class at no cost to experience it yourself!
CLASS FLOW:
First 30 minutes: Cardio through dance routines
Last 15 minutes:: Full body stretching
💚What's more, choose from multiple options of days and times!
So come, dance with us to get your weekly dose of fun & energiser!!
Get your ticket to try a class!