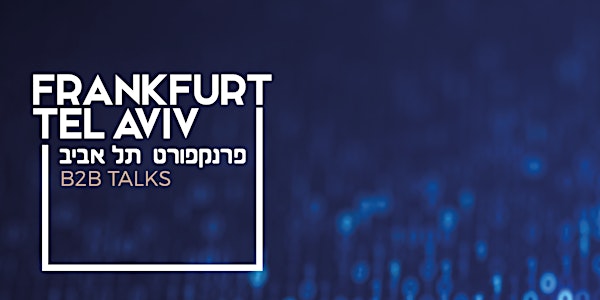 Frankfurt - Tel Aviv B2B Talks - CYBER SECURITY MADE IN ISRAEL
When and where
Location
CoWork&Play Otto-Meßmer-Straße 1 60314 Frankfurt Germany
Description
Dear Reader,
You are interested in CYBER SECURITY MADE IN ISRAEL?
We cordially invite you to register right now for our event:
FRANKFURT – TEL AVIV B2B TALKS
Cyber Security Made in Israel

September 14th, 2017 / 9.30 a.m. – 2.00 p.m.
---
PROGRAM
09.30 a.m. – Registration, Coffee & Networking
10.00 a.m. – Words of Welcome
Uwe Becker, Mayor & Treasurer of the City of Frankfurt
Doron Abrahami, Head of Economic and Trade Mission, Embassy of Israel in Berlin
Oliver Schwebel, CEO Frankfurt Economic Development (Wirtschaftsförderung Frankfurt GmbH)
10.15 a.m. – IT Security and Data Protection: Recent Legal Developments
Christian Kusulis, Partner Graf von Westfalen Law Firm / Head Israel Desk
10.30 a.m. – Insights from Israel – one of the world's leading Cyber Security superpowers
Gilbert Ohana
Gilbert is a Co-founder and a General Partner of FinTLV (www.fintlv.com). A retired LTC, former head of the Israeli Defence Forces Elite Technology & Intelligence Unit (Israeli SIGINT National Unit 8200) CTO group. Gilbert brings 15+ years of executive level experience and 26+ years of experience in leading strategic IT and Enterprise Architecture and Enterprise Architecture initiatives, focused on Digital and Cloud Transformation, Advanced Analytics and Cyber Security.
FinTLV is a Venture Capital Fund aiming to provide industry expertise and financial investment to trailblazing startups developing innovative, new-age financial technology. The firm also incorporates a FinTech Innovation Zone, powered by SOSA, a global network of tech innovation hubs, into its investments, connecting industry leaders to the heart of the Israeli startup ecosystem.
When you are interested in background information on Unit 8200, please have a look here: FORBES article: Inside Israel's Secret Startup Machine: http://bit.ly/2uTaWag
11.00 a.m. – Q&A Session
11.10 a.m. – Coffee break
11.20 a.m. – Cases from Israel
12.20 p.m. – Q&A Session
12.30 p.m. – Networking & Get-together / Light Lunch
B2B meetings
You are interested to set-up a B2B meeting with one or several of the companies?
Don't hesitate and contact Hanna Dwertmann, Hanna.Dwertmann@israeltrade.gov.il or call at +49 30 20644912.

Event Language: English
---
CYBER SECURITY MADE IN ISRAEL

Learn about the latest trends and developments in Cyber Security; find out about the solutions developed by Israeli companies and have the chance to discuss with our experts and meet selected Israeli companies.

Global hacker attacks and the growing threat of cyber-terrorism, impact us on all walks of life. In particular, sensitive industry sectors such as transport, energy and water supply, financial services, medical facilities or the pharmaceutical and chemical industries urgently require solutions to deal with these threats.
Faced with ongoing dangers both in the physical as in the digital world, Israeli companies positioned themselves early on, from the outset of the Information Age, as world leading experts in Cyber Security. Indeed, Israel's security strength is based on innovative technologies, operationally proven methods and comprehensive training and qualification of human resources. The solutions offered by Israeli startups are predominantly customised to meet specific requirements.
The potential of utilising this experience has long been recognised by large international corporations. "The solutions will come from Israel," predicted Telekom CEO Thomas Kremer, who spoke on IT security and data protection at the Cyber ​​Security conference in Tel Aviv in July 2017.
At the Frankfurt – Tel Aviv B2B Talk we will get first-hand insights from Israel's Cyber Security Industry. This event also intends to create a bridge between Israeli startups to the Frankfurt's business sector.
Get your free ticket now.
We will be happy to welcome you.
---
TARGET GROUP
ICT Industry Executives

CISOs, CSOs of Banks and other Central Players


Network Security Managers, Datacenter and Infrastructure Managers

Enterprise Architects

CFOs, CXOs, Risk Managers

The Cybersecurity Ecosystem

Universities and research centres

The Israeli Business Community
---
ORGANIZERS / PARTNERS