Veranstaltungsort
Online-Event
Founders Meetup: The Power of Relationships - thrive through network thinking
Zu diesem Event
Founders Meetup: The Power of Relationships - thrive through network thinking
Dear friends of the Startup Community,
in our Meetups we illuminate the most diverse topics of our time. From sessions on "Design Thinking", "Founders Mindset", "Storytelling", "Investors" or the exchange with experts from established companies on the topic of Corporate Startup Partnerships, a lot has already been on our agenda.
What about the power of relationships? How can your achieve goals by uncovering and building your network connections?
Effective networks improve the flow of information, open new resources, encourage collaboration and innovation, support leadership, to name a few benefits. A network approach is particularly useful when you aim to transform the way you collaborate, enhance innovation processes or encourage self-organisation.
In this Meetup our keynote speaker Julia will introduce basic concepts of social network analysis as a tool to investigate networks of individuals or organisations. She will discuss the benefits of network thinking and why some networks are more successful than others.
Draw your own network! Network mapping, a hands-on tool to visualise and analyse your personal or business network, will be shared in the session. A set of questions will help you to analyse your network map, uncovering opportunities, resources or potential risks. The reflection on your web of relations will help you to formalise next steps to achieve your personal or business development goals by systematically building on leveraging points by connecting people or organisations.
After the Meetup Session you'll be able to use the network mapping tool for your own cases.
Julia is an organisational developer with a background in corporate marketing and management. She is a network researcher, affiliated with the Centre of Business Network Analysis (CBNA) at the University of Greenwich where she earned her PhD in organisational networks. She is a visiting lecturer at the International Business faculty at Heilbronn University where she introduced network approaches to sustainable management. She believes in the power of relations to enhance diversity and change.
Good to know: This Founders Meetup will be in English!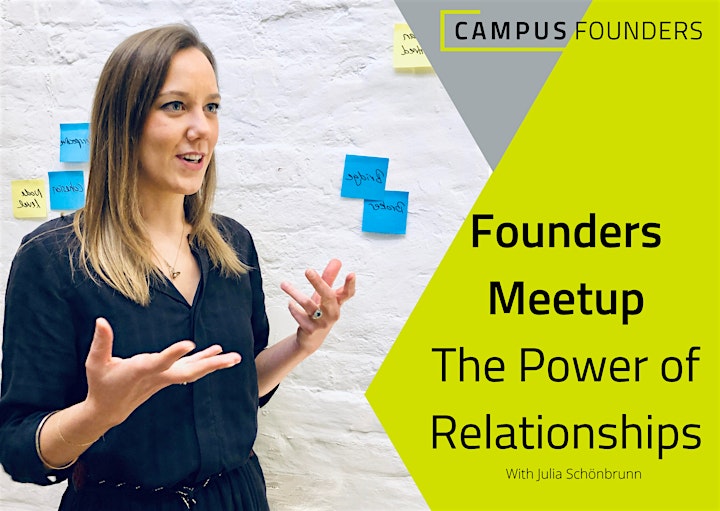 The focus of our Founders Meetup is the exchange and interaction with the audience!
We want to make the round even more interactive! Therefore, we invite you to use the zoom meeting already at 6pm for the exchange among each other. Through a short, voluntary introduction round we will get to know each other better and you can also ask your questions personally or use Slido as usual!
Get your seat in our virtual event arena of Campus Lab now and register for free.
As always we remain true to our motto: Starting your business is no rocket science!
We are happy to welcome you in our community. We hope to see you soon in person in our Campus Lab at the Bildungscampus Heilbronn.
Your Campus Founders Team