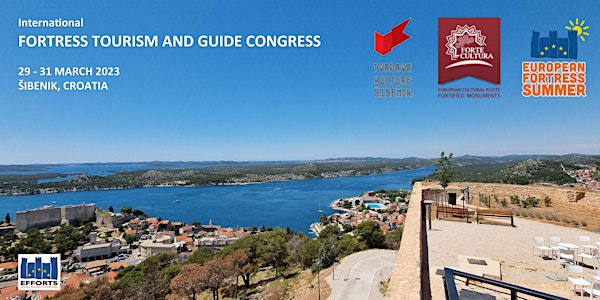 Fortress Tourism and Guide Congress
FORTE CULTURA conference to foster cooperation on fortified heritage in the Adriatic Sea Region; Launch of the European Fortress Summer 2023
Date and time
Wed, 29 Mar 2023 18:00 - Fri, 31 Mar 2023 16:00 CEST
About this event
FORTE CULTURA Fortress Tourism and Guide Congress 2023, Šibenik (HR)
Historic fortresses are an extraordinary architectural backdrop for an impressive world of experiences: festivals, culture, art, sports, leisure, recreation, education, games and fun. Every year, many thousands of visitors discover and enjoy the vibrant cultural life and attractive events in fortresses across Europe.
The European Cultural Route of Fortified Monuments - FORTE CULTURA takes you into this fascinating world of historic fortresses. Around 50 stations of the cultural route in 10 European Countries offering extraordinary experiences for cultural tourists.
The International Fortress Tourism and Guide Congress provides:
European best practices of clustering fortified sites in cross-border cooperation
process of the development of sustainable cultural tourism in fortresses
quality criteria to be a station of the FORTE CULTURA European Cultural Route
qualification programme for tour guiding in fortresses
knowledge exchange and scientific support for the fortified heritage
Fortress Routes on the Adriatic Sea Region
The congress shall provide the development of sustainable tourist routes to the cultural heritage of fortified monuments in the Adriatic region for different target groups, i.e. for Young Europeans, disabled people or under the aspect of climate-friendly travel. A workshop at Knin Fortress will work out how sustainable tourism and inclusion can be implemented. The workshop is part of the EFFFORTS Goes Green initiative.
Enjoy an extraordinary expert event at the fortresses Šibenik and Knin!
Programme Wednesday, 29 March 2023
15.00 - 17.00 FORTE CULTURA General Assembly (for members and invited guests only)
17.30 TOUR OF ŠIBENIK CITY CENTRE WITH HOSTS
20.00 GET TOGETHER AND AN INFORMAL DINNER (own expenses)
Programme Thursday, 30 March 2023
9.00 - 16.15 CONFERENCE
16.15 Guided Tour of Šibenik Fortresses
18.45 Launch European Fortress Summer 2023 - Special event at St. Johns Fortress
19.30 Dinner
Programme Friday, 31 March 2023
8.15 Transport Sibenik --> Knin Fortress
9.15 Guided Tour Knin Fortress
10.45 Introductory lecture
11.15 Workshop 1: Solution Lab at Knin Fortress on sustainable and green fortress tourism
11.15 Workshop 2: Architectural heritage in Ukraine during the war. Fortifications of the Pidhirtsi Castle. European-Ukrainian cooperation for support.
12.45 Lunch
14.00 Transport Knin --> Sibenik
This event is supported by: