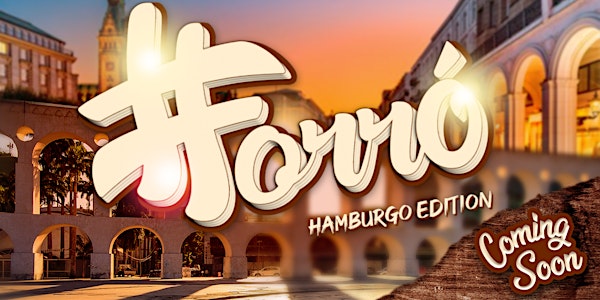 #Forró - Hamburg
Now Bigger and in a Bigger city!
When and where
Location
A Bailar Hamburg Eiffestraße 664B 20537 Hamburg Germany
About this event
HashTag Forró 18,19 and 20 - November !
Tickets here:
https://hashtagforro.eventbrite.de
After the success in our first edition in Hannover, now it's time for our second edition in Hamburg!
#Forró days in Hamburg. We will have various masterminds to inspire you, live bands, amazing Djs and the most important: You as passionate forrozeiro!
------- CONFIRMED ARTISTS -------
Teachers:
Marinho and Mari ( Salvador - Brazil)
Wesley and Carol (Brasilia - Brazil)
Miguel Gomes (Hamburg/Rio de Janeiro - Alemanha/Brazil)
.... and More Coming Soon !
Bands:
Black do Arcodeon (Band - Brazil)
Severo Gomes (Band - Brazil)
More Coming Soon.....
DJs:
Coming Soon....
------- HIGHLIGHTS -------
Bar Flatrates: Water, Soft Drinks and more!!!!!!!
Tested, vaccinated or recovered (3G)
We are allowed to change dance partners.
Classes for very advanced dancers
*Elite Class is not included in the Full Pass.
------- SCHEDULE -------
Thursday:
Pré- Party (Not included in our festival)
Friday:
Saturday:
Sunday:
To participate in the advanced classes you are required to have good knowledge and experience of a big variety of movements like: Roots Walk with break, Banana Banana, and of course basic footwork and timing.
For the regular workshops no registration with a dance partner is required.
To participate in the Elite Class you need a dance partner since we won't change partners there. Please consider that it is a class for SUPER ADVANCED DANCERS.
The schedule might be subject to change.
------- PRICES -------
1 LOT
Full Pass ( Adv, Inter and Beginner + Parties): € 100,00
FullPass + Elite Class (Choosed Level + Parties):€ 120,00
Elite Class + Party Pass (Couple) :€240,00
Party Pass: € 60
Prices: 1 Lot/ 2 Lot/ 3 Lot / Event Day
------ TICKETS ------
https://www.eventbrite.de/
------- COVID -------
ATTENTION
Our Event folows the current state rules.
------3G EVENT-------
Please come:
Vaccinated (2 weeks after full vaccination)
Recovered
or tested. Please, bring your proof daily.
Choose your ticket accordingly!
To make sure all of us are safe and can enjoy the weekend we will follow all governmental hygiene rules, which are the following:
You will need to show proof of your status at the entrance. Please have it ready for us to check once per day, the first time you enter the school.
If you are vaccinated or recovered you don't need any test but we would strongly recommend still getting tested for the safety of everyone.
------refund-------
In case you won't be able to participate due to illness, please send us the medical certificate from your doctor and we provide you a corresponding event ticket for the festival next year.
Please consider that the tickets are personalized. In case you want to change the name write us an e-mail. We will charge 10 € for the change.
Can't wait to welcome all of you