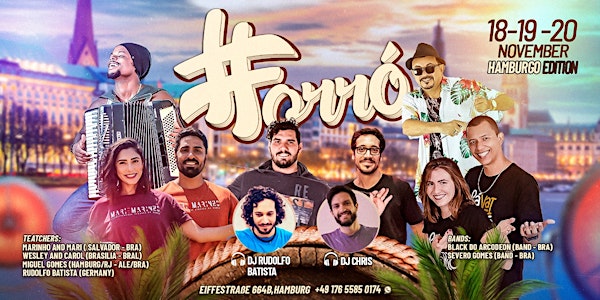 #Forró - Hamburg
Now Bigger and in a Bigger city!
When and where
Location
A Bailar Hamburg Eiffestraße 664B 20537 Hamburg Germany
About this event
HashTag Forró 18,19 and 20 - November !
Tickets here:
https://www.eventbrite.com.br/manage/events/385602416207/tickets
After the success in our first edition in Hannover, now it's time for our second edition in Hamburg!
#Forró days in Hamburg. We will have various masterminds to inspire you, live bands, amazing Djs and the most important: You as passionate forrozeiro!
------- CONFIRMED ARTISTS -------
Teachers:
Marinho and Mari ( Salvador - Brazil)
Wesley and Carol (Brasilia - Brazil)
Miguel Gomes (Hamburg/Rio de Janeiro - Alemanha/Brazil)
Rudolfo Batista (Germany)
Bands:
Black do Arcodeon (Band - Brazil)
Severo Gomes (Band - Brazil)
DJs:
Dj Cris (Germany)
Dj Rudolfo (Germany)
------- HIGHLIGHTS -------
Bar Flatrates: Water, Soft Drinks and more!!!!!!!
Tested, vaccinated or recovered (3G)
We are allowed to change dance partners.
Classes for very advanced dancers
*Elite Class is not included in the Full Pass.
------- SCHEDULE -------
Thursday:
Pré- Party (Not included in our festival)
Friday:
20 h - Registration
21:30 - WorkShop
23:00 - Party
Saturday:
14h Start WorkShop
22h Party
Sunday:
14h Start Workshop
20h Party
To participate in the advanced classes you are required to have good knowledge and experience of a big variety of movements like: Roots Walk with break, Banana Banana, and of course basic footwork and timing.
For the regular workshops no registration with a dance partner is required.
To participate in the Elite Class you need a dance partner since we won't change partners there. Please consider that it is a class for SUPER ADVANCED DANCERS.
The schedule might be subject to change.
------ TICKETS ------
https://www.eventbrite.com.br/manage/events/385602416207/tickets
------- COVID -------
ATTENTION
Our Event folows the current state rules.
Any Proof is necessary now.
------refund-------
Please consider that the tickets are personalized. In case you want to change the name write us an e-mail. We will charge 10 € for the change.
Can't wait to welcome all of you