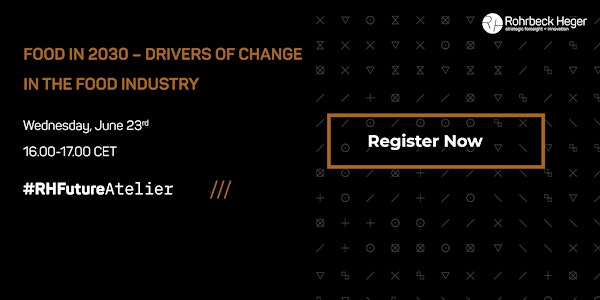 Food in 2030 – Drivers of Change in the Food Industry
In this collaborative online session, we discover disruptive change drivers by 2030 and uncover how to use foresight for the Food Industry.
About this event
Be inspired by our third collaborative foresight-driven innovation session in 2021 as part of the #RHFutureAtelier series - this time with a focus on the food industry.
We'll be discovering drivers of change that may become big in 2030 and understand how they can disruptively impact the food industry.
This session provides you with a 'sneak-peek' of Rohrbeck Heger's collaborative foresight method, and an opportunity to gain insights from a diverse range of participants - all of which you can use to inform and drive your strategy & innovation activities.
In this workshop, you will:
1. Discover drivers of change
2. Prioritize them by their impact & uncertainty
3. Exchange insights through use cases on the future of the food industry
Participation is virtual. Registration is free.
PLEASE NOTE: The session is limited to 25 participants, upon over-subscription we will confirm final participation by mid June - to ensure a fair distribution of participants from diverse organizations, we reserve the right to cancel your registration.