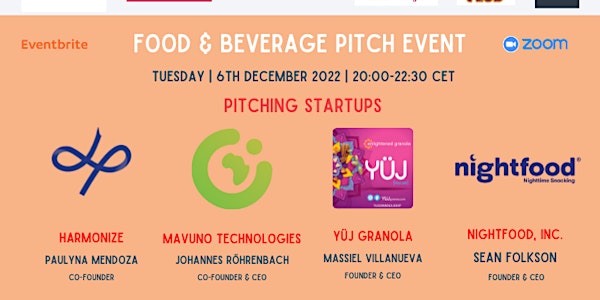 Food & Beverage Pitch Event
Are you a Food & Beverage (F&B) startup looking for investment, partners and/or feedback? Or an investor, buyer, consultant and/or foodie?
Refund Policy
Contact the organiser to request a refund.
About this event
Are you a Food & Beverage (F&B) startup looking for investment, partners, and/or feedback? Or an F&B industry investor? Or simply interested in entrepreneurship?
Food & Beverage covers innovation in the AgTech, FoodScience, Delivery or Retail sectors.
Jamal Maxey, formerly of the Startup Club and now with Phoenix Investments. has co-hosted 18 relevant pitch events and co-produced this supportive F&B startup-investor event series with Sascha Dutta from Marketing Strategiser & FoodHack.
Alongside Sascha Dutta from Marketing Strategiser, Daniel Levin hosts the "Food & Beverage Pitch Event" series that matches F&B startups to industry-specific advisors and investors, providing real-time feedback in addition to our team promoting you better to our investor networks.
This event series is sponsored by Palmi Palmason from Phoenix Investments and Ryan Kolar from ARIISE Partners, with ongoing active involvement from RSVP Business Angel and Pitch Club and panelists from other fantastic companies!
This series delivers a valuable experience for all attendees via general attendee networking and/or pitching - find co-founders, partners, clients, and funding with us!
We welcome applications from F&B startups to pitch to our distinguished panel.
Please purchase your observer ticket now and/or email "pitch@pi.is" if you're an interested advisor, investor, or startup - this is a valuable fee-based event for startups.
For updates on our events, please join our event series group "Food & Beverage Pitch Events":
https://www.linkedin.com/groups/12503914/
Also, consider following the "Marketing Strategiser" LinkedIn company page:
https://www.linkedin.com/company/marketing-strategiser/
Event details: Tuesday | 6th December | 20:00-22:30 CET (ONLINE)
Event Schedule
- Introduction to the event
- Presenting the Event Team, Advisor Panel, and Pitching Startups
- Startup Pitches (plus Q&A and feedback)
- Conclusion
- Post-event "Virtual Networking Hour" in Zoom breakout rooms
Pitch Slot #1
Paulyna Mendoza from Harmonize
Pitch Slot #2
Johannes Röhrenbach from Mavuno Technologies
Pitch Slot #3
Massiel Villanueva from YUJ Granola
Pitch Slot #4
Sean Folkson from Nightfood
Event Partners
Marketing Strategiser
Phoenix Investments
ARIISE Partners
RSVP Business Angel
Pitch Club
My Guide Berlin
Advisor Panel
Elena Suciu – Founder (RSVP Business Angel). Capital Raising Expert. Angel Investor.
Martin Barnes – 8 Seconds 2 Connect (Founder). Startup Pitch Trainer & Public Speaker.
Palmi S. Palmason – Founder & Chairman (Phoenix Investments). Sustainable Seafood. Aquaculture and FoodTech. Mentor and Investor.
Ryan Kolar – Founder & CEO (ARIISE Partners) Accelerator/Incubator Director. 8x Founder & Private Equity Investor.
Sascha Dutta – Founder & Director (Marketing Strategiser). F&B Branding Expert. F&B Startup Community Builder.
STARTUPS are invited to pitch at our events in the presence of a panel of advisors/investors. They are given a generous 5-7 minutes to pitch their business (and can use a pre-recorded pitch and/or an explainer video as part of their live presentation). Following the pitches will be 18-20 minutes of questions and feedback from a distinguished Advisor Panel of sector-specific investors, consultants and serial entrepreneurs. Each startup that pitches benefits from live feedback from the panellists.
F&B Startups that presented at previous events produced BY THE HOSTS have included: Pumpkin organics, Mango Bahia, Stem & Glory, Family Secret, Bru Tea, Nocto, Artesano, Big Night, Sophie's Kitchen, Travel Meet Eat, Monatea, The Cauldron Company Co.,CyberFarms, Dining, Zepice, BioFeyn, Aqua AI, Neo Aura, Must Grow, Mavuno Technologies, NaturaYuva, Raino Tech4Impact, AlgaePro (Greentech Innovators), Best Place For, MiFood Robot, In My Kitchen, Kiezfarm (FarmlyPlace), C´Fo Drinks, Caulibox, HomeMealDeal, TribalMilk, FitBakes, Leche No, Nocto, Gud Italia, Heart & Soul Nuts, Pri´s Puddings, Claudia´s Kitchen UK, Agrantec, Carisips, Mighty Plants, NXT LVL PZA, Tonic Health, ATCHA, More Foods, Brio-Maté, Goldling Spirits Co., Neue Water, Gaston, ChilliesRock, Enjoy Trill, Damn Good Cocktails, 80Noir Ultra, OVER THE MOO, ChicP, EatFigo, Kleos Mathiha Spirit, PHUNK, and BiteMe Nutrition.
INVESTORS are invited to join to connect with our innovative startups.
Previous INVESTOR and food industry company guests that support F&B startups include: Starlight Capital, Phoenix Investments Ltd., ARIISE Partners, Millennium Food-Tech, FoodHack, AgriNation VC, DigitalFoodLab, Capagro, AngelHub, Oltre Ventures, WBAF Angel Investment Fund, Shaper Impact Capital, Techstars, Ankur Capital Fund, TAN Food, Gourmet Ventures, AgriFoodsNetworks, National Sugar Institute-Tanzania, SSI AG, European Commission - EASME, Faster Capital, ICOS Capital, Green Angel Syndicate, APX, UBS, Business France, Seedrs, The Sea Group, Halewood Wines & Spirits, AgFunder, FoodHack, Lidl GB, AgriFoodsNetworks, EIT Food, Future Food Campus, SeaAhead, Harvest Returns, Water Innovation Accelerator, and DCVC Bio.
For a full list, please see our historic attendance document below:
https://bit.ly/3A8LtHq
ENTREPRENEURS, PROFESSIONALS and STUDENTS are invited to learn about the EdTech startup ecosystem and interesting business models as well as network for their professional development.
###
Note 1: After purchasing your ticket you will receive a confirmation email that includes the Zoom registration details.
Note 2: Please note that by registering you agree to the storage of your data. We also wish to draw your attention to the fact that we will record the event and will publish this recording at least in part. If you do not agree to any of the above points, we kindly ask you not to register.
Note 3: We are happy to pay commission for referrals of paying pitching startups, please email pitchevents@pi.is for more information and/or with your startups introductions.
We look forward to seeing you at the event!
Kind Regards,
Jamal Maxey, Co-Producer
Sascha Dutta, Co-Producer
On behalf of Marketing Strategiser, Phoenix Investments and ARIISE Partners
Promotion efforts led by My Guide Berlin